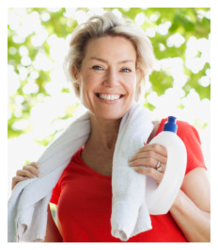 "Shifts in hormone levels during pregnancy and menopause put women at a heightened risk of vein disease,"
New Hyde Park, NY (PRWEB) June 04, 2013
In honor of Women's Health, Garvey Vascular Associates is providing information on women's health issues. The New Hyde Park, New York based vein center is focusing particularly on varicose veins, a problem that women are more likely to experience than men.
"Shifts in hormone levels during pregnancy and menopause put women at a heightened risk of vein disease," says Dr. Julius Garvey, a leading vein doctor at Garvey Vascular Associates. Extra weight gained during pregnancy and menopause can put additional stress on the veins. Weight management and regular exercise can help lower the risk of vein disease, as can avoiding standing or sitting in the same position for extended periods of time.
Garvey Vascular Associates is well versed in this and many other women's health issues. The vein center is providing more information on the topic through their Facebook and Twitter , Google+ pages, and Blog.
Women can reduce their risk of varicose veins and other health problems by making simple lifestyle changes. All women are encouraged to better understand the health issues they might face in order to make healthy choices.
For more information, visit:
Yourveinspecialists.com
Varicose Vein Treatment Options
Varicose veins and spider veins are very common vein conditions seen throughout the U.S. adult population. Patients with varicose veins may be concerned about the cosmetic consequences or experience pain and other symptoms associated with this vein condition.
Garvey Vascular Specialists diagnoses and treats all stages of varicose veins and spider veins. Doctors often recommend using compression stockings or making healthy lifestyle changes like getting more exercise as a first line approach. If more advanced therapies are needed, the center offers several effective varicose vein treatment options. These include sclerotherapy, ultrasound sclerotherapy, saphenous vein ablation, endovenous laser ablation, and microphlebectomy.
About Garvey Vascular Specialists
Garvey Vascular Specialists is a leading vein treatment center with locations in New Hyde Park, New York and Fresh Meadows, New York. The center provides diagnostic care and treatment for a full range of vein disorders. Staff doctors have expertise in treating varicose veins, spider veins, deep vein thrombosis, and other types of vein disease. Dr. Julius Garvey, a Board Certified Vascular Surgeon, Phlebologist and Certified Wound Care Specialist, leads the center of excellence. The vascular diagnostic laboratories at Garvey Vascular Specialists are accredited by the Intersocietal Commission for the Accreditation of Vascular Laboratories. The center also employs Registered Vascular Technologists at each location, as well as an anesthesiologist. The office location in New Hyde Park is an accredited facility to perform surgery on an outpatient basis and is credentialed by the American Association for Accreditation of Ambulatory Surgery Facilities, Inc.
Garvey Vascular Specialists
http://www.yourveinspecialists.com/
Tel. 516-336-8878