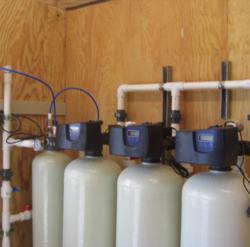 (PRWEB) June 01, 2013
In Nigeria, the demand for automatic iron filtration systems is expanding along with the large number of wells being drilled. Iron in well water is a common occurrence in Nigeria. As the Nigerian economy expands and more wells are being drilled, the demand for advanced iron filtration systems continues to grow.
Clean Water Systems & Stores Inc. has appointed Ralph Advanced Clean Water & Stores Ltd. as the distributor for its line of advanced Manganese Oxide iron filtration systems. The company distributes the iron filters throughout the country for treating well water high in iron for homes and businesses.
The maximum contaminant level (MCL) for iron set by USEPA standards is 0.3 ppm, also referred to as 0.3 milligrams per liter of water. In concentrations above 0.3 ppm, iron in water can cause staining of fixtures and porcelain, and ruin laundry. Concentrations of over 3.0 ppm is common in many Nigerian wells.
Iron filters have often proven difficult to maintain due to the high costs of chemicals and maintenance. The new Manganese Oxide iron filters operate with little or no maintenance saving time and money. Unlike standard iron filters that operate at lower flow rates, the rapid manganese oxide systems filter water at a faster rate which allows filter systems with a smaller footprint and size but still allowing high rates of flow.
"We are pleased to announce the appointment of Raphael Adeshina as our sole distributor for Nigeria. His experience has been invaluable and his organization very effective", said Mr Gerry Bulfin, President of Clean Water Systems & Stores Inc.
Clean Water System's line of automatic Manganese Oxide iron filters treat well water for iron, manganese, arsenic and other metals with little maintenance required. The filter media utilizes an oxidation-reduction reaction and filtration process similar to Greensand, but at a much higher level of performance. The high-purity manganese oxide filter media contains 80 percent manganese dioxide in a unique cluster format for enhanced performance and maximized capacity. The unique iron filter media outperforms older style iron filter media due to the purity of its particles combined with the superior oxidation, filtration capacity, and durability.
Clean Water Systems & Stores Inc. specializes in water treatment of contaminated well water in North America and has over 8,000 customers in over 30 countries. The company provides custom, easy-to-install water treatment systems and products in a large variety of different types and configurations including systems for removing iron, manganese, sand, odors, bacteria, turbidity and sediment.