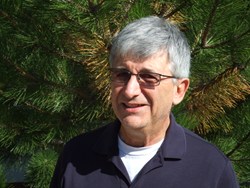 Working with addicts has always been something I've enjoyed.
Flagstaff, Arizona (PRWEB) June 02, 2013
Back2Basics is thrilled to have John Valvo playing a bigger role in their company. Ceo and Founder, Roy DuPrez states, "I have known him [Valvo] for years, and after seeing him work in the professional community, I knew this was a guy that I wanted to collaborate with." After Valvo spent the last year proving his dedication and commitment to the company- counseling dozens of residents passing through the Back2Basics program- DuPrez knew he wanted to promote Valvo to Clinical Director. "John Valvo brings commitment, dedication and a belief in back2basics that is crucial for his role in providing direction for a clinical team. That, along with his extensive background and history working with people struggling with substance abuse in the Flagstaff area, makes him the perfect candidate," expresses DuPrez.
After receiving a master's degree from Northern Arizona University in counseling, John Valvo has been in practice since 1989, working in a variety of counseling and therapy-related fields. From a Pastor, to a Substance Abuse Therapist, to working in Crisis Counseling, Valvo believes his past experience makes him the successful therapist he is today. When asked about working with Back2Basics, Valvo states "In a way, the [B2B] program deals with clients that I love… working with addicts has always been something I've enjoyed." Valvo is now incorporating the knowledge he has gained from all his past lines of work to help develop a structured clinical program for Back2Basics.
Valvo's extensive knowledge of the 12 step program, broad background in a variety of different fields, managerial skills, and ability to get through to these struggling addicts, does make him the perfect candidate for the Clinical Director position. "I feel super blessed to have such a well sought-after professional working with us here at Back2Basics," comments DuPrez.