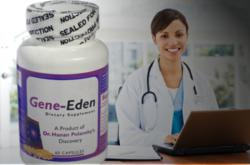 When you're stressed, exercise, meditate, and eat a healthy diet. This will reduce your stress and protect your immune system. - Mike Evans, polyDNA
Rochester, NY (PRWEB) June 01, 2013
Long term stress damages the immune system. A weak immune system cannot clear viruses that constantly enter the body. The herpes virus is just one kind of virus that can take advantage of a weak immune system. Once a herpes virus enters the body, it establishes a long-term latent infection that the weak immune system cannot clear on its own. (1)(2)
"Stress activates the hypothalamic-pituitary-adrenocortical axis to promote the release of corticosterone (CORT), which consequently suppresses pathogenic stimulation of the immune system." (European Journal of Immunology, March 2013) (1) That means stress suppresses the immune system, or, in the words of another study, "When examining mice, researchers saw that elevated stress damages the immune system's mechanism…" (Nocamels.com, May 2013) (2)
This is significant.
Another consequence of a weak immune system is that the latent virus can awaken and start attacking the person's body. A third study discussed this consequence, and stated that "stress can induce the reactivation of latent HSV-1." (Cell Biochemistry and Biophysics, 2011) (3)
These studies show that long term stress lowers the immune system. Herpes viruses can then take advantage of the weak immune system and attack the body.
"When you're stressed, exercise, meditate, and eat a healthy diet. This will reduce your stress and protect your immune system. In addition, I recommend considering the use of a proven, natural product that has antiviral ingredients to help the immune system kill both entering and latent viruses." – Mike Evans, polyDNA
polyDNA recommends that people educate themselves about Gene-Eden-VIR, a natural remedy against the latent herpes virus.
By helping the body's immune system target the latent herpes virus, people also lower their risk of developing fever blisters, cold sores, and genital herpes symptoms. This is true even when the person is under a lot of stress.
In a post marketing clinical study, Gene-Eden-VIR was shown to be safe and highly effective against the latent herpes virus. Over 70% of Gene-Eden-VIR users reported a reduction in herpes symptoms. (4)
Each capsule of Gene-Eden-VIR contains a patented formula of five all natural ingredients including selenium, camellia sinesis extract, quercetin, cinnamomum extract, and licorice extract. In addition, each bottle is GMP Certified. (5)
To learn more about Gene-Eden-VIR, the only product on the market today that helps the body target the latent herpes virus and that is scientifically backed by published material, visit http://www.gene-eden-kill-virus.com.
Reference:
(1) http://onlinelibrary.wiley.com/doi/10.1002/eji.201242613/full
(2) http://nocamels.com/2013/05/lets-relax-researchers-show-stress-leads-to-increase-in-autoimmune-diseases/
(3) http://www.ncbi.nlm.nih.gov/pubmed/21327577
(4) http://www.cbcd.net/Gene-Eden-VIR-Clinical-Study.php
(5) http://www.gene-eden-kill-virus.com/studies.php
###
polyDNA is a biotechnology company that develops dietary supplements using the unique scientific method developed by Dr. Hanan Polansky, which is based on Computer Intuition.
In addition to his unique scientific method, Dr. Polansky published the highly acclaimed scientific discovery, called Microcompetition with Foreign DNA.
The discovery explains how foreign DNA fragments, and specifically, DNA of latent viruses, cause most major diseases. polyDNA developed Gene-Eden-VIR (), an antiviral natural remedy that helps the immune system kill latent viruses.