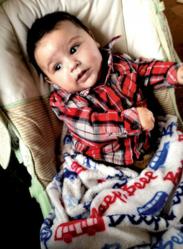 The system that is in place for midwives making home visits is seems to be flawed, the safety of patients should be at the forefront of NHS policy and this system has failed the Kalipsperas family
(PRWEB UK) 4 June 2013
Vasilli Kalipsperas has been left with a life threatening condition known as kernicterus, after a student midwife that was allocated to visit the family failed to follow the necessary procedures for dealing with high risk cases of Jaundice according to a news report by Worcester news online (1).
The new born carried a common enzyme deficiency called G6PD that notoriously speeds up the process of jaundice developing into kernicterus, however instead of monitoring the condition she allegedly offered to re-visit them at a later date (2).
After recent proceedings, Worcestershire Acute Hospitals NHS Trust has allegedly admitted liability for his preventable condition, where they have said that they are "deeply sorry" for the errors in judgment that resulted in Visilli suffering from cerebral palsy, blindness, deafness and being diagnosed with severe kernicterus (1).
Commenting on the actions of the midwife, Asons Executive Suzanne Yates said:
"Although it has been stated that it is quite normal for student midwives to be heavily involved in patient care after the birth of a child, this particular student has shown what appears to be a lack of knowledge of basic infant care. Therefore she should have never been given such an important responsibility. The errors that she has made will affect the health of the child, and have caused both unnecessary physical and emotional damage and distress".
Visilli's mother, Mrs Kalisperas was reported to have alerted the student midwife about her concerns regarding her sons jaundice during a home visit when he was just 24 hours old. However, instead of continuing to monitor his health, she was described as having ignored guidelines set out by the National Institute of Clinical Excellence (NICE) which state that new born babies must be tested and referred to hospital for treatment if the condition is severe (1).
Despite the midwife's "lack of concern" towards this child's current condition, a second midwife was called out to the home after Visilli's condition significantly worsened and were advised to take him immediately back to Worcestershire Royal, as reported in the Worcester news article (1). Once at the hospital he was immediately given a course of phototherapy to try and reduce his levels of bilirubin, however his condition began to rapidly deteriorate. After he stopped breathing, Visilli had to be resuscitated and was immediately given a blood transfusion to try and clear the bilirubin, however by this point significant damage had already been caused that had left him with severe brain damage (1).
Further commenting on the incident, Suzanne Yates stated:
"The system that is in place for midwives making home visits is seems to be flawed, the safety of patients should be at the forefront of NHS policy and this system has failed the Kalipsperas family. More awareness needs be raised about jaundice and its ability of cause kernicterus to stop incidents like this from happening again. This was a totally preventable situation, and I only hope that anyone else that has suffered trauma such as this come forward to raise awareness of medical negligence get the care and support that will be needed".
Kernicterus is an avoidable condition that has a devastating results. The quality of life of a child suffering from the condition will be significantly reduced and the costs to cover the care can be of a large expenditure to the families affected. Filing a Kernicterus compensation claim can help to ease the suffering of the child and help cover the expense of mobility equipment, accessibility costs, medicines and treatments and occupational care etc. Asons Solicitors are experts in dealing with cases of medical negligence compensation claims and can help anyone that has suffered neglect within the NHS to get the compensation that is deserved. To find out more information on claiming compensation for kernicterus, visit http://www.asons.co.uk or phone 01504 521 133 to speak to one of their team.
(1) Worcester News, Jaundice left one-year-old from Malvern disabled after 'miss' by student midwife, 22/05/2013
http://www.worcesternews.co.uk/news/10433420.Jaundice_left_one_year_old_disabled_after__miss__by_student_midwife/
(2) BBC News, Malvern baby Vasilli Kalisperas disabled after jaundice error, 21/05/2013
http://www.bbc.co.uk/news/uk-england-coventry-warwickshire-22603675

About Asons Solicitors:
Asons Solicitors is a Bolton-based law practice that specialises in personal injury and industrial disease claims. Founded by brothers Imran Akram and Kamran Akram, Asons Solicitors has developed to become a young and dynamic law firm that delivers practical solutions to clients in times of difficulty. Their continued focus on their staff has seen them awarded with the Investors in People "Gold Award"; which is reflected in the professional and personable approach they take in working with clients. They strive to grow and to develop, and their supportiveness and attention to detail ensures that their clients use them time and again.
For further information contact:
Email: info@asons.co.uk
Website: http://www.asons.co.uk