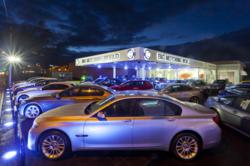 Another reason to be proud of being the largest used bmw dealer in the UK
Canterbury, United Kingdom (PRWEB UK) 2 June 2013
After investing 20 years of hard work and over £8 million in development, Big Motoring World achieved the coveted 2012 Car Dealership Magazine Award.
This recognition followed a lengthy period of development within Big Motoring World to establish itself as the United Kingdom's premier independent pre-owned BMW car specialist, and is a testament to the company's dedication to deliver customers with exceptional car sale and after-care service.
Described by its hosts as "a celebration of the used car industry", the Car Dealer Magazine Award further emphasises the customer-focused approach Big Motoring World provides.
Customers are offered the option of an on-site Service Centre and MOT Station, as well as attendance to their vehicle by professional technicians using the latest specialist tooling and diagnostics equipment.
An extensive selection of parts, including tyres and upgrades, are also available for purchase, and at the Big Paint one is given the further option of a complete body shop package, from small scratches to wheel refurbishment to a full body spray.
Whatever the service you are after, Big Motoring World provides you with a team of friendly staff with a wealth of knowledge and experience who are dedicated to providing you with the best possible car or service for your needs.
For every new car sold in the UK, three used cars are sold, and so it is also important to Big Motoring World that this award gives recognition to the industry that is so closely linked with the UK economy.
In 2011, during the midst of one of the country's worst economic crises, used car sales rose to a new high of £35.7 billion, this reflecting the benefits of purchasing a high quality vehicle without having to pay a economically unviable price.
Moreover, a 2012 consumer survey saw 24% of respondents stating that they had bought a car in the past 2 years, with three quarters of these having purchased a used car.
Throughout all of the respondents the top priority was stated to be vehicle affordability, a third of the respondents believing 'getting a good deal on the car ' was the number one issue; 3 out of 10 of the respondents believed the main concern to be 'getting the right car at the right possible price'. As Big Motoring World looks to surpass all of these needs by a long shot, it is not surprising to see why the Car Dealer Magazine 2012 Award was received.