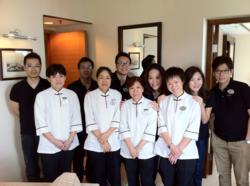 Hong Kong (PRWEB) June 04, 2013
Cosmo Hotel Hong Kong announced that it has been honoured with the Caring Company Logo 2012 by The Hong Kong Council of Social Service (HKCSS)today. It has been nominated by the Hong Kong Sea School, in recognition of its commitment in caring for the community, employees and the environment over the previous year.
Cosmo Hotel Hong Kong's Corporate Social Responsibility Effort Aims to Build a Cohesive Society
Launched since 2002, the Caring Company Scheme organised by The Hong Kong Council of Social Service aims to cultivate good corporate citizenship. Caring Company Logo is presented to companies and organisations that have made significant contributions in caring for the community, the employees and the environment.
"Although competition is keen in the business world, still we trust that we have the responsibility to fill it with love via nurturing the community, our people and the place we live in. By promoting strategic social service partnerships and inspiring corporate social responsibility, we will ultimately create a win-win-win-win situation meaning we will do good for the community, our employees, the environment and make a reputation for the hotel," explained Anita Chan, General Manager of Cosmo Hotel Hong Kong.
Caring for the Community – Collaboration with Hong Kong Sea School
Cosmo Hotel Hong Kong has been partnering with Hong Kong Sea School since 2006 on an internship programme that is held twice a year with each period spreading over 4 to 5 weeks. During the programme period, interns will be assigned to Front Office, Housekeeping and other departments for comprehensive trainings. The main aim of the collaboration is to equip interns with valuable real-life work experience and prepare them for better work opportunities in the future. It also offers youngsters who do not have an academic background in hospitality and tourism but are passionate about the hotel industry an opportunity to experience working in this field.
"Cosmo hotel and Sea school share the same vision and our joint effort has given a great opportunity for our senior boys helping them to learn, to grow, and most importantly, to gain real-life experience, before leaving school, in an authentic hospitality work place. We have been doing the same with Cosmo's sister property Cosmopolitan Hotel since 2006," said C. M. Chan, Careers Master of Hong Kong Sea School.
Caring for the Employees – One Family Program
"We understand that employees are the most valuable assets in the hotel. We take every chance to show concern and treat them like a family. Our One Family Program is one of our many family-oriented programmes aimed at spreading the caring message to all our staff and to their young family members," enthuses Ms. Chan. Under this internal programme, young family members are given the chances to know about the operations of a hotel via training sessions and so that they will learn to appreciate more about their parents' work. "This will build a closer and stronger parent-child relationship and the bonus would be nurturing new blood for the hotel industry," Ms. Chan continues.
Caring for the Environment – Collaboration with Green Globe
Being the first 4-star hotel that introduces 100% smoke-free policy, Cosmo Hotel Hong Kong truly cares about the environment and endeavours its best in terms of green efforts. With great earnestness, Cosmo collaborated with Green Globe – an international certification program for sustainable tourism management – and has become one of the few certified green hotels in Hong Kong.
A set of green policies has been implemented in the hotel including 100% indoor smoke-free policy, encouraging the use of bed linens and towels, provision of shuttle bus service so as to reduce carbon dioxide emission, use of eco-friendly natural refrigerants for the air-conditioning system to ensure that the ozone layer is free from harm, etc. The hotel also holds a proven track record in water and energy saving – a 16% in water saving and a 9.6% in electricity saving in response to the revamping of LED lighting in the hotel property.
A Cohesive Society Is Built As A Result
Having a mission in mind, Cosmo Hotel Hong Kong has indeed made significant contributions in caring for the society, caring for the employees and also conserving the environment. The outcome is that a more cohesive society is made possible, and gathered efforts have made the planet a better place to live for both guests and staff.
– End –
4-star boutique Cosmo Hotel Hong Kong is situated amid Wan Chai and Causeway Bay just opposite to Hong Kong Stadium and across the Happy Valley race course. Having a total of 142 rooms, this boutique hotel has a 100% in-door smoke-free policy. Rooms are sectioned into different room categories with a size ranging from 15 to 83 sq.m. color coded into orange, yellow and green for free selection. Highlighting a voguish touch of design, the hotel also emphasises on technology offering high speed Internet access and rental service of iPad with 3G connection. Free WiFi is available in all hotel public area. A mere 8-min walk from the hotel is Causeway Bay subway station and the Time Square mega shopping mall. The hotel also provides complimentary shuttle service to destinations in Causeway Bay, Wan Chai, Admiralty, Central and Quarry Bay. Nooch Bar in hotel lobby presents award-wining cocktails and Breeze on 5/F has a corner for free self-serviced coffee. For more details on Cosmo Hotel Hong Kong, please visit http://www.cosmohotel.com.hk
Cosmo Hotel Hong Kong is the recipient of Certificate of Excellence in the Years 2012 and 2013 by TripAdvisor and a certified eco-hotel by Green Globe. It is also managed by Dorsett Hospitality International and is also a member of Utell Hotels and Resorts.