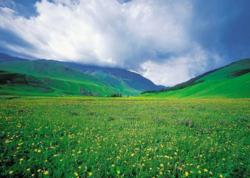 There are several reasons for us to introduce the grasslands in Ili as a summer resort to our clients, the pleasant climate, the unique scenery and rare animals that could only be captured in summer. -- Murphy
(PRWEB) June 07, 2013
WindhorseTour, a top local travel agency with over 10 years experience of customizing tours throughout China, has just released a Xinjiang grassland sightseeing tour for clients.
During this 11-day trip, travelers will have an overland trip to the grand grasslands in Ili after they have a short stay in Urumqi, the capital of Xinjiang. The highlights along this route include the Sayram Lake, Narat Grassland and Buyanbulak Grassland.
"There are several reasons for us to introduce the grasslands in Ili as a summer resort to our clients, the pleasant climate, the unique scenery and rare animals that could only be captured in summer." Murphy, a travel adviser at WindhorseTour said.
Sayram Lake, Narat and Buyanbulak Grassland are all located in the Tianshan Mountain ranges (2,000 m, 6,562 ft.). The average temperatures in summer are around 23 C (73 F). Travelers will not feel hot while riding a horse, or hiking on the vast grasslands.
Summer is the season to capture the grasses changing color and wild flowers blooming, especially the lavenders. Ili is the third largest base to produce lavenders, only behind Prvence in France and Hokaiddo in Japan. Every year in June, the boundless Violet fields under the blue sky offer an excellent chance for clients to take photos. This is why Ili is also called as the "Provence in China."
The third reason for travelers to come to Ili in summer is the swans that can only be witnessed during this season in the Swan Lake of Buyanbulak Grassland. Travelers will have a chance to see swans and other rare birds returning from the south to live and breed here. In the sunny days, flying swans, glittering lakes, surrounding peaks and clouds altogether will create an everlasting memory for every traveler who visits here in the summer.
In the second half of this trip, travelers will drive to Turpan to taste the authentic summer fruits, such as grapes, hami melons and watermelons. They will visit Karez Well, one of the great three ancient projects in China, to learn how ancient people escape from the scorching weather by using their wisdom.
WindhorseTour specializes in creating tailor-made experiences based on every client's unique needs and operating groups to all provinces in China. Please visit WindhorseTour for more information or contact them.
Email address: news(at)windhorsetour(dot)com
TEL: (+86)-288-559-3923, (+86)-288-625-4701
Fax: (+86)-288-625-4710