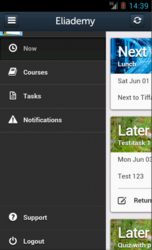 "With the mobile client, students can continue their studies anytime, anywhere even on vacation",
(PRWEB) June 03, 2013
Eliademy, a classroom in the cloud, offered as a service that facilitates e-learning for instructors and students, has gathered unprecedented popularity in just a few months. Enabling users to access content via its dynamic and beautifully designed mobile application is another bold step towards this mission. Application launches in Google Play first and will be available for iOS and Jolla devices later this year. Eliademy Mobile Client, code named Huxley, is interoperable with Moodle LMS, which means students and instructors can instantly access their University content using the same application. CBTec will also be releasing more than 20,000 lines of code to the Moodle Community as our commitment towards the Open Source Movement.
The high quality, elegantly designed application is free for Eliademy users and a directory of all compatible Moodle installations will be maintained for users. "With the mobile client, students can continue their studies anytime, anywhere even on vacation", commented Sergey Gerasimenko, co-founder and Chief Product Officer at CBTec. Furthermore, students can check course schedule on the go, view deadlines, watch videos as well as collaborate with fellow students and instructors. By utilizing modern mobile technology, students will be able to increase their productivity, do homework faster and see important events in device calendar, thus never missing a deadline again.
Launched in February 11 2013 and having received good traction from over 149 countries, Eliademy is becoming the tool instructors have long desired and the perfect environment to engage students with online content. Among other developments at Eliademy, the team has been committed to its value promises by rolling out new features, mostly based on feedback from instructor community. Now available in 13 languages, it expects to reach up to 40 languages by the end of 2013. To expand the usage of Eliademy to more colleges and universities, Eliademy recently became a corporate member of the Accreditation Council for Business Schools and Programs (ACBSP) and partners with other institutions and organizations. The company is part of the board of COSS, the open source community of Finland. CBTec is also contributing on an EU level in the 5th University Business Forum where company co-founder and CEO, Sotiris Makrygiannis will be influencing EU policy makers on the future of education technology.
Eliademy is a product of CBTec, a company founded by ex-Nokia MeeGo team who previously delivered all open source Nokia phones such as N900 and N9. Eliademy has been developed in Finland, world leader in education, together with best universities, educators, organizations and students.