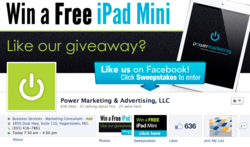 Hagerstown, MD (PRWEB) June 01, 2013
Award-winning, Internet marketing MD firm Power Marketing, LLC is pleased to announce a special iPad Mini sweepstakes. One lucky winner could score a free iPad Mini, just for being a fan of Power Marketing on Facebook. The winner will be announced once the company reaches 1,200 Facebook fans. The giveaway is a marketing strategy to reach their target fan count and celebrate their Facebook fans from all over the country.
"Our Facebook fans do a lot for us, and now we want to do something special for them," says Power Marketing President Brian Flook, MIRM. "This contest is our way of showing our appreciation for their continued support and reaching a larger demographic with our Internet marketing services, portfolio and tips."
To qualify for the sweepstakes, participants must 'Like' the official Power Marketing Facebook page, click on the Sweepstakes app and then fill out the short entry form. Likes do NOT equal votes. All participants MUST like the Facebook page and fill out the entry form to be considered for the contest. The sweepstakes is open to all legal residents of the U.S. who are 18 years of age or older. Only one winner will be selected to receive an iPad Mini as soon as 1,200 likes are documented.
Power Marketing will contact the winner via the email address provided on his/her entry form, and the winner will be announced on Power Marketing's Facebook page. No substitutions of prizes or cash are allowed. Each entrant must agree to abide by the official contest rules, and all sweepstakes results are final.
"We're very excited to offer our fans a fun and easy way to connect with us on social media," Flook says. "Time is limited, so enter the sweepstakes soon before it's too late. Good luck to all participants."
For more information on Power Marketing's Maryland website design, builder marketing and other services, visit their Facebook page or website.
About Power Marketing:
Power Marketing, LLC is a full-service marketing firm with more than 20 years of hands-on experience in brand strategy, internet marketing, SEO Maryland, social media marketing and web design. Power Marketing assists companies in maximizing their resources to improve their brand identity and sales success. For more information, please contact Communications Specialist Krista Scarlett, 301-416-7861, Krista(at)Power-Marketing(doT)com, or visit http://www.power-marketing.com.
# # #