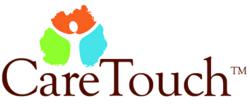 Once diagnosed with sleep apnea, a driver's best chance of achieving compliance to therapy is through regular contact.
Denver, CO (PRWEB) June 04, 2013
CareTouch Communications, Inc. announced a device agnostic sleep therapy compliance program specifically for commercial trucking companies. The CareTouch360 platform and communication service tracks drivers diagnosed with sleep apnea through a simple user interface that manages and monitors therapy compliance. The system automatically communicates with drivers at predetermined intervals to collect objective data and document compliance.
Proposed Federal Motor Carrier Safety Administration (FMCSA) guidelines state that "drivers should be disqualified immediately or denied certification if they have been found to be non-compliant with their CPAP treatment at any point."
CareTouch360™ is a device agnostic platform designed to manage patient therapy compliance. The sleep therapy compliance service monitors patients with sleep apnea to ensure they are on therapy and receiving the maximum benefit from their treatment program. The service also manages patient comfort level and satisfaction, tracks issues or concerns, provides coaching, and facilitates the collection of therapy data.
"The Harvard Medical School reports that the crash risk for a person with sleep apnea is 242 percent greater than a person without the disorder, so diagnosing sleep apnea in commercial truck drivers is just the first step in solving this problem," commented Matthew Dolph, Vice President of CareTouch Communications. "Once diagnosed, a driver's best chance of achieving compliance to therapy is through regular contact. CareTouch™ uses automated technology and a knowledgeable team of sleep therapy specialists to engage and communicate with drivers. Our goal is to ensure drivers are compliant which we know helps keep them safe on the road."
About CareTouch Communications, Inc.
CareTouch Communications, Inc. is a leader in patient engagement, communication and management. The company delivers complete technology solutions to Home Medical Equipment (HME) Providers. The CareTouch360™ platform is a device agnostic technology that helps patients achieve therapy compliance through regular, documented communication at established intervals. CareTouch is patient-focused and features an integrated live, multi-lingual call center, IVR and web based solutions focusing on sleep and diabetic resupply, sleep adherence, oxygen equipment replenishment, nebulizer supply replenishment, and manufacturing recall notification. The company is headquartered in Westminster, Colorado.