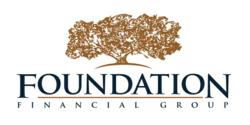 FFG's support of Family Support Systems is an investment in our community's future.By helping train foster parents now, we can ensure excellent care for foster children.
(PRWEB) June 12, 2013
Foundation Financial Group announced its support of Family Support Services, a nonprofit that provides training and support group services for the Department of Children and Family Services in Jacksonville. Employees from Foundation Financial's Jacksonville Regional Sales Center, located at 225 Water Street #2100, have volunteered to help Family Support Services nurture the relationships between foster parents and children.
"My grandparents were foster parents and I remember them giving so much to kids who basically had nothing," said Foundation Financial Group Event Coordinator Megan Nau. "Foster children have been let down so many times in their lives and are totally helpless against the abuse they have suffered. Organizations like FSS deserve our time and money because they protect the children who need it most, the children living in our foster care system."
Family Support Services holds Quarterly Caregiver Training events for foster parents. On June 16, a Caregiver Training Workshop will be held at First Baptist Church in Jacksonville's downtown area. The workshop will teach different techniques to foster parents interested in developing their caregiver skills. Foster children of all ages will be present.
Over 30 Foundation Financial Group volunteers will assist Family Support Services with conducting the event. FSS provides daycare and dental services for foster children while foster parents attend the training seminar. Volunteers will be running the daycare and assisting the dental check clinic during the event. Volunteers will also direct attendees and generally assist with event logistics such as setup and cleaning.
"FFG's support of Family Support Systems is an investment in our community's future," continued Nau, who volunteers with the Department of Children and Family Services in her spare time. "By helping train foster parents now, we can ensure excellent care for foster children in the future. Citizens like us donate time and resources to these kids so that they can live safe and happy lives. Donating time or talent to the organization is what they need most. Talent donations from dentists, doctors, music instructors and swim instructors are needed. Together, we can help these foster parents raise well-rounded children into productive adults."
Family Support Services takes responsibility for protecting children in the community who have been or are at risk of abuse or neglect. The mission of Family Support Services of North Florida, Inc. is to be the leader in providing safety, stability, and quality of life for all children by working with the community to strengthen the family unit. Among additional support services for families in crisis, the organization provides: emergency shelter, in-home protective services, relative care placements, foster care, case management, residential group care, family reunification, and adoption.
About Foundation Financial Group
Foundation Financial Group is a multibillion dollar financial services corporation. FFG offers its customers Best in Class service through its Insurance, Retirement and Mortgage Services. Named one of the fastest growing financial companies in the country by INC magazine, FFG has continued to grow its nationwide presence with over 100,000 new customers per year in 39 states. In addition to the value that Foundation Financial provides every customer, it is also dedicated to its communities and the people who live in them. Through a vast array of philanthropic endeavors the company not only provides significant monetary donations but also fosters a workforce environment that encourages all team members to personally make a difference. Foundation Financial is committed to its strong focus on customer service and community investment as it continues to grow and compete with the largest financial institutions in the world.
Foundation Financial Group reviews all public relations inquiries. For additional information, interview and image requests, contact the Foundation Financial Group Public Relations team.