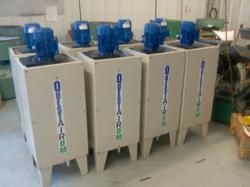 Somers, CT (PRWEB) June 03, 2013
Aquest Corporation is the leader in dust collection and oil mist collection and continues to have success selling and installing the Quest Air OM 500 in manufacturers throughout New England. Aquest has seen increased interest in oil mist collection and the Quest Air unit due to OSHA's increased presence.
The Quest Air OM500 Oil Mist Collector is a highly efficient unit that filters oil mist out of the air stream in a facility and can return it to the sump of a machine or back inside a unit. It can be mounted to the top of a CNC machine, lagged to the floor right next to one, or hung from the ceiling.
The light weight and compact design of the Quest Air OM500 unit makes it extremely popular in machine shops and aerospace companies. There is little operational, energy, and maintenance costs associated with the unit.
The Quest Air OM500 features three stages of filtration which utilizes a passive cyclone, an angled Bernoulli chevron filter, and a continuously draining filter to achieve a high efficiency. The design of the Quest Air OM500 unit is unique in the industry.
Aquest Corporation is a 27 year old environmental engineering firm that offers customers free site surveys and analysis for dust collection and industrial air filtration systems. Aquest designs systems to meet OSHA regulations regarding combustible dust.
Aquest offers customers the opportunity to meet OSHA requirements at an affordable price.
As a manufacturer in New England, it is imperative to know the regulations regarding combustible dust and indoor air quality. Aquest has studied the regulations and can provide TURN-KEY systems to meet the needs of every customer.
Aquest Corporation is located at 626 Main St. in Somers, CT. Aquest's phone number is 860-749-3938. Please contact Phil Roland with any questions or to setup a time to meet.