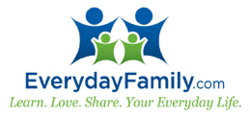 Tampa, Florida (PRWEB) June 03, 2013
EverydayFamily.com, ranked by Inc. 500/5000 as the 25th fastest growing media company in the U.S., is an innovative online content and community destination for new and expecting moms, exceeded 1.64 million U.S. unique visitors in the month of April, according to comScore Media Metrix.
"Simply knowing the size of your website's audience isn't enough intel in today's chunked-up, multi-platform digital media environment, which is why EverydayFamily tapped Media Metrix Multi-Platform to deliver a comprehensive view of our digital consumer behavior across desktop computers, smartphones and tablets," stated Tony Golden, CBDO of EverydayFamily, "It's crucial for us to be able to quantify the unduplicated exposure, demographic composition and engagement of our digital community to our advertisers, ad agencies and marketing partners.
EverydayFamily.com's growth is fueled by best-of-breed community technology and social sharing tools, along with a growing community of bloggers that fuel deeper audience engagement. Says Noah Anderson, CEO of EverydayFamily.com, "Media Metrix Multi-Platform allows EverydayFamily.com to leverage Comscores existing digital media planning currency, and to provide our marketing partners with important multi-platform insights that target our savvy digital moms wherever they consume their content."
ABOUT EVERYDAYFAMILY:
EverydayFamily.com (EF) is an online home, and established resource to a growing community of moms & parents who share their own everyday parenting experiences with those seeking guidance and support as they move through their family's journeys, from preconception, to preschool and beyond. As one of the fastest growing destinations for new and expecting moms on the web, EF delivers an exclusive, highly transactional life-stage mom to marketing partners. EF delivers results for a majority of the iconic brands in the new parent vertical. The editors at EF, as well as the entire EF community, are dedicated to providing daily content for families seeking expert and parent advice, information and support … and to giving back to the communities supporting it.
For advertisers, EF delivers extremely low audience duplication, as well as opportunities for sponsorship and creative integration that go well beyond the run-of-site banner… and weave marketing messages as an uninterrupted part of the user experience.