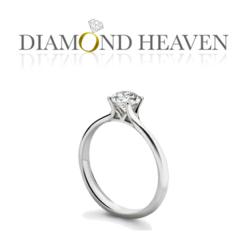 For the first time in history diamond prices are now a product of true market forces providing a wonderful opportunity for investors.
(PRWEB UK) 18 June 2013
Birmingham jewellery company, Diamond Heaven forecasts diamonds will outperform gold to become the top performing tangible asset by 2020.
Jewellery specialists, Diamond Heaven reports changing market conditions have increased the value of diamonds dramatically over the past 5 years. With around one trillion dollars wiped from the value of gold, the company now predicts the time is right to invest in diamonds.
A combination of new mining opportunities, fewer market restrictions and increasing demand for diamond jewellery is driving up the value of the precious stone to create an ideal opportunity for new investors. Demand for white diamonds in India has also increased over the past decade, with Diamond Heaven and other industry experts predicting strong continued growth in Asian markets.
The value of one-carat diamonds has risen by 30% over the past 5 years.
Diamond Heaven purchases its diamond rings in bulk, allowing them to be sold at a more competitive rate than the high street retailer.
The company has observed significant changes in the precious stones market from its headquarters in Birmingham's Jewellery Quarter, Europe's largest concentration of jewellery businesses.
"For more than a century the prospect of diamond investment has always remained out of reach due to one family's monopoly," commented Diamond Heaven founder, Hiten Shah.
"The DeBeers family historically dominated the diamond industry, cornering all areas from mining to manufacturing to trading. But conditions changed at the end of the last century and now, for the first time in history, diamond prices are a product of true market forces. It's a happy time for diamond investment," continued Hiten Shah.
Major new mine discoveries in Australia, Canada and Russia weakened DeBeers' control over rough diamonds and its ability to influence suppliers and prices. By 2004 its entire stockpile was depleted and prices were driven by supply and demand. The introduction of new suppliers meant diamonds could be more freely sold on the open market.
"Investors who retained their diamonds during the DeBeers' rein are now able to buy and sell their diamonds at real-time prices. As the industry flourishes, it's safe to say diamonds are no longer just a 'girl's best friend," concluded Hiten Shah.
About Diamond Heaven
Diamond Heaven is an established jewellers, based in Birmingham's Jewellery Quarter. The company is one of few UK jewellers to produce specialised diamond jewellery, including engagement rings and wedding rings, on-site from its purpose-built workshop.
Please contact 0121 200 1300 or email at sales(at)diamond-heaven(dot)co(dot)uk.