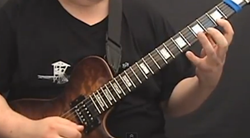 So nowadays, it seems that cyberspace may truly be the place to go for guitar lessons.
New York, New York (PRWEB) June 02, 2013
Guitar Control.com continues their streak of online guitar lessons with this one that is geared towards those who would like to learn what's called legato technique. Legato is an Italian term that actually translates to "tied together" and that's basically why it applies to this lesson as it involves playing notes which aren't too far apart from each other on the fretboard while exercising a hammer-on and pull-off effect.
Silvio Gazquez is the impressive instructor in this the latest lesson in what he calls his Lick of the Day Series. Mr. Gazquez is an acclaimed guitarist who hails from Argentina and has recently been nominated as a finalist in the international Guitar Idol contest not once, but twice. Therefore, he knows what he's doing when it comes to the six-string.
The lesson can be a helpful guitar exercise for almost any kind of player, especially those who are looking to learn heavy guitar licks. It's a super rockin' riff that aside from being exciting to play, should be an effective form of practice and an excellent guitar exercise for improving a few essential skills such as speed and flexibility. Plus, it involves parts of a pentatonic scale which is an ever important piece of the musical puzzle.
Silvio's lead guitar lessons can be an ideal way for some people to learn how to play. This may be due to his unique approach in which he first performs the lick at the regular tempo and then once again at a much slower speed so that students who need to get a better look at what he's doing are able to do so. Also, legato guitar tabs, which are a fundamental form of musical notation, are provided as always for additional assistance.
So nowadays, it seems that cyberspace may truly be the place to go for guitar lessons. Whether someone is looking for advice regarding legato technique or info on practically anything about the six-string, there's no doubt that they can get started by simply tuning up, signing in, and rocking out!