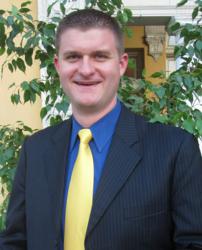 I am thrilled to be stepping up as the president of Rediker Software, an exemplary company that means so much to me both personally and professionally.
Hampden, MA (PRWEB) June 03, 2013
Richard Rediker, CEO and founder of the student information system company Rediker Software, named Andrew Anderlonis, current Director of Business and Operations, the new president of the company effective immediately. In this position, Anderlonis will be responsible for the day-to-day company operations while Rediker will remain the active CEO.
For the past two years, Anderlonis as Director of Business and Operations has successfully implemented new business practices to streamline processes and plan for the company's future. He also project managed the release of several new products for Rediker Software, including the classroom observation tool, Teacher Evaluator, and iOS and Android mobile applications for the student information system, Administrator's Plus. These products are now being used by thousands of educators around the world.
"As I have done since the first PC was announced, Andrew lives and breathes technology," said Rediker. "In his two years at Rediker Software, Andrew has already started the process of moving our software into the newest technologies while maintaining its legendary functionality. His desk is always hidden by dozens of the latest devices as he investigates how our products can better serve our customers by leveraging the capabilities of these devices."
Rediker Software has been a family business ever since the company was founded by Rediker when he was a high school chemistry teacher 34 years go. As president, Anderlonis maintains Rediker Software's status as a family business, a rarity among educational technology companies. Anderlonis is Rediker's son-in-law, married to his daughter, Amy Rediker Anderlonis, who is also involved with the company.
"I am very proud to have Andrew take over as president of Rediker Software," said Rediker. "In this day and age of faceless mega-companies whose sole purpose is to please their investors or stockholders, Andrew as president will keep Rediker Software a true family business in which our customers are number one."
Anderlonis expressed enthusiasm for his new leadership position. "I am thrilled to be stepping up as the president of Rediker Software, an exemplary company that means so much to me both personally and professionally," stated Anderlonis. "I look forward to leading Rediker Software into the next generation while continuing to provide our schools with the best educational technologies through our push towards innovation in education."
A graduate of the George Washington University with a B.B.A in International Business and Management Information Systems, Anderlonis was a lieutenant in the US Navy's elite nuclear program prior to coming to Rediker Software. His time in the military managing teams aboard the aircraft carrier USS George H.W. Bush and destroyer USS Milius taught him strong leadership and operational skills that will be an asset to him as president of Rediker Software. The company currently employs nearly 100 people and serves thousands of elementary, middle and high schools.
About Rediker Software
For over 30 years, Rediker Software has been a leader in school administrative software for private, public, international, religious and independent schools. Through its innovative solutions, Rediker Software helps schools in over 115 countries manage administrative tasks, maximize school-to-home communication and inspire student performance and success. The company's products include Administrator's Plus, a web-based SIS solution, Admissions Plus Pro and Teacher Evaluator. Rediker Software offers experience, reliability, unsurpassed technical support, ease of use, and leading-edge features not found in any other system.
For more information about Rediker Software, please visit http://www.rediker.com.