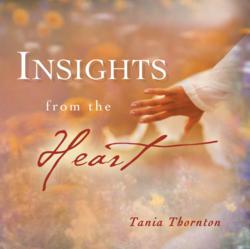 It takes a great deal of courage to look within and make changes in your life while living in pain and unhappiness.
Wellington, NEW ZEALAND (PRWEB) June 02, 2013
Author Tania Thornton has lived a productive and full life and she wants you to do the same. In her new book, Insights from the Heart, Thornton is offering readers an opportunity to embrace and accept the many blessings the universe longs to bestow on each person. Thornton has written her book to help and inspire others when life challenges present themselves.
As a collection of personal essays and affirmations, Insights from the Heart touches on the heartache of losing a loved one and how difficult that experience can be. Thornton also addresses situations such as relationships, one's inner guidance system, dealing with stress and learning to be present in each moment.
"I want people to learn to love themselves and to take care of their daily lives when difficulties arise," said Thornton. "In my book I have shared personal insights into becoming a parent as well as learning to cope with grief and loss."
As a life coach and spiritual counselor, Thornton is offering a different life philosophy where she encourages and affirms, teaches and guides.
"It takes a great deal of courage to look within and make changes in your life while living in pain and unhappiness," said Thornton. "I trust that sharing my story and insights with each of my readers will touch their hearts in a new way to help them on their own life journey, as I truly only want the best for them."
To purchase Insights from the Heart, visit http://www.amazon.com or http://www.balboapress.com
Insights from the Heart
By Tania Thornton
ISBN: 978-1-4525-6685-6
Paperback: $24.45