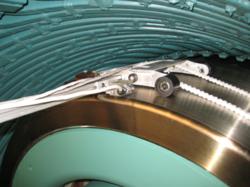 Based on the needs of our customers, Veracity has successfully developed and implemented a field level in-situ inspection of generator retaining rings
(PRWEB) June 04, 2013
Veracity Technology Solutions (VTS), an AGC Aerospace & Defense Company, has developed a nondestructive inspection tool to detect volumetric defects in generator retaining rings.
"Based on the needs of our customers, Veracity has successfully developed and implemented a field level in-situ inspection of generator retaining rings. Our customers are looking for options that can help mitigate the risk of catastrophic failures while reducing maintenance costs to a minimum. We feel that this technology provides our customers this increased capability," stated Kevin McKinley President of Veracity.
Working with its partner SuperDroid Robots, Veracity developed a robotic vehicle that can travel the circumference of generator retaining rings collecting over 18,000 images of ultrasonic data. This data is then reconstructed to provide a 3-dimensional volumetric ultrasonic model for inspection and evaluation.
Veracity uses its proprietary ultrasonic instrument known as the VTS 2400. The system is comprised of a 128 element linear array that provides unparalleled fidelity. This increased detectability increases an inspector's ability of detecting those inhomogeneous anomalies that are detrimental to the serviceability of the retaining rings. A retaining ring can typically be inspected in less than 12 hours with the entire generator being completed in two shifts. Additionally the captured data can be reviewed to allow monitoring and reevaluation at scheduled intervals.
Veracity Technology Solutions develops customized nondestructive inspection solutions for aerospace systems and power generation equipment. Veracity technicians use proven, proprietary technology to check for defects or potential problems – on applications such as wings, rotor blades, landing gear, generators, and both gas and steam turbines. The methodology and technology help customers extend the service life of high-value assets, lower inspection costs, and eliminate hazardous processes.
AGC Aerospace & Defense, the unifying brand of private equity group Acorn Growth Companies, is a global supplier of technologies, systems and services that support key commercial and military programs. Capabilities within the AGC Aerospace & Defense portfolio range from financing, engineering, and integration services to manufacturing, logistics, and aircraft modifications. AGC Aerospace & Defense is organized into four operating groups: Composites & Aerostructures, Finance, Integrated Defense, and Services.
For additional information about Veracity Technology Solutions or AGC Aerospace & Defense, please visit http://www.agcaerospace.com.
Contact:
Johnny Lantz, Director of Marketing & Communications
AGC Aerospace & Defense
Phone: (405) 737-2676 ext. 2012
Email: jlantz(at)agcaerospace(dot)com