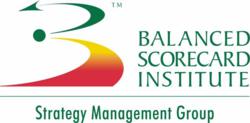 Most balanced scorecards are a picture of where the organization is today. What's needed is a picture of where the organization is going tomorrow.
Cary, NC (PRWEB) June 05, 2013
This publication captures the Institute's 15 years of training and certifying balanced scorecard practitioners throughout the world, transforming organizations into higher performing entities, and helping align strategy and operations to vision and mission. The Institute has helped all different types of organizations articulate what they are trying to accomplish and execute whether that strategy is focused on healthcare delivery in Ethiopia, government effectiveness in Botswana, market competition at Fortune 1000 companies, or mission effectiveness at foundations and associations.
There have been many books written on this subject. So why another one?
The Balanced Scorecard Institute has created the big missing component that real people need in order to create strategic success – a practical step-by-step process that shows:

How to align day-to-day work and employee action with organization vision and mission
How to engage the entire organization in building and deploying a strategic management system, and
How to manage and adapt to change and transform an organization to a higher level of performance
This new book offers more than a strategic planning approach, more than a systematic process for strategy execution, more than a scorecard, more than a change management tool, more than a prioritization methodology, and more than metrics for strategic performance. The Institute Way is the first integration of these different elements in a comprehensive, disciplined framework. The Institute Way is a practical and effective, step-by-step approach to strategic planning and management.
The authors of the book are all officers of the Balanced Scorecard Institute. Howard Rohm and David Wilsey (both based out of Cary, NC), Gail Stout Perry ( Dallas, TX), and Dan Montgomery (Boulder, CO) have over 100 combined years of training, consulting and facilitation experience bringing the benefits promised by the Balanced Scorecard to life.
With a motto of Making the Academic Practical, the Balanced Scorecard Institute strives endlessly to help strategy professionals cut through the theory and jargon to "connect the dots" between day-to-day operations and the vision and strategy of the organization. Managers and CEOs that learn this methodology will soon be able to formulate and articulate high-level strategy and create alignment around vision, mission, business unit strategy, budgets, operations and employee work, all the while creating employee engagement. Ultimately, managers and executives will be able to use the book to define strategy, rally the organization around that strategy, and achieve what the organization wants to achieve.
The book will be available in August 2013.
About the Balanced Scorecard Institute:
The Balanced Scorecard Institute, a Strategy Management Group Company, provides strategic planning, balanced scorecard and performance measurement and management training, certification, and consulting services to government, nonprofit, and commercial organizations. Services include public and on-site courses, facilitation and consulting services, and information and tools used by executives, managers and analysts to transform their organizations into "performance excellence" organizations.
The Institute's website, http://www.balancedscorecard.org, is a leading resource for information, ideas and best practices on strategic planning and management, performance measurement, and balanced scorecard systems. The Institute's Nine Steps to Success™ balanced scorecard framework integrates strategic planning, budgeting, operational planning, performance measurement and strategy execution into a disciplined framework for helping organizations achieve higher levels of performance.