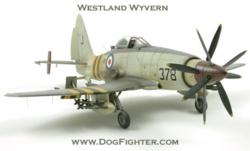 These modelers are not only artists, they are expert historians.
Prague, Czech Republic (PRWEB) June 04, 2013
WebModel s.r.o. announces the release of an elite modeling marketplace, dogfighter.com, where the best model aircraft builders in the world offer their talent for hire: hand-built military scale airplane models made to order and delivered direct from the workshop.
The artisans represented by dogfighter.com carry the highest accolades in their field, including two category winners of the Telford Scale Model World competition: the World Cup of model-building. "Each model takes six to nine months to complete and costs as much as $1,500 to own," says Sam Aubrey, WebModel's chief liaison officer. "The quality of craftsmanship behind every product in our online marketplace is pretty much unsurpassed in the world of scale model construction."
As examples of the standards for sale, the pages on dogfighter.com display model airplanes that the builders have crafted in the past. Detailed photography exemplifies the attention to detail that goes into each creation. "These modelers are not only artists, they are expert historians," says Aubrey, "Often they don't just pick a plane and its squadron: they pick a pilot and the exact machine he flew, including all the associated aircraft markings. We have modelers putting stress marks on the paneling according to the weight of ordinance that that particular plane was carrying during its sorties. The level of realism these craftsmen attain is incredible."
While some items are ready-built, most of those advertised on the site will only be manufactured upon receipt of an order, with special custom builds also invited.
When asked what kind of people buy these airplanes, Aubrey had this to say, "Perhaps as you'd expect, the buyers are pretty similar types to those who build them – aircraft enthusiasts, former pilots. The quiet sort."
The fact that creator and customer share similar profiles is perhaps a good thing; Aubrey notes that "…with a lead-time of many months, our buyers really need as much patience as the people making the things."
Visit http://www.dogfighter.com to see the largest online museum of scale model warplanes.
Written by: Morris Stuttard