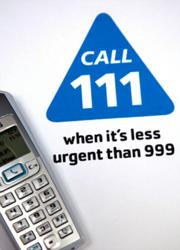 It is not good enough; patients were encouraged to put their trust in the 111 system, and them being given incorrect advice is potentially dangerous.
Bolton, UK (PRWEB UK) 5 June 2013
Since its launch, worries have arisen that the new NHS 111 system is critically underperforming, with the Patient Safety Chief admitting that patients may have been harmed as a result (1). The implementation of the new NHS non-emergency advice line has been linked to several concerning instances of medical negligence, questioning whether the new programme has caused more harm than good (2).
In their article 'Official: NHS 111 call line not safe' (22nd May 2013) The Bath Chronicle describes the events of the recent Patient Safety Congress in Birmingham. Speaking there, when asked whether he thought patients had been harmed as a result of the failure of 111, NHS England's director of patient safety, Mike Durkin, made the following statement (1)–
"Yes I do… We are getting active reports from GPs, hospitals and significantly from ambulance services.
We recognise there have been problems with the system, and these safety reports will be vital in helping us learn the long-term lessons to make NHS 111 a top-quality service, now and in the future."
The implications of such mistakes, even in the short-term, are worrying. The 111 health service has run since the beginning of April and since then providers of the service have been found to be displaying a 'seriously poor performance.'
According to the Guardian, in some areas patients had to suffer long waits for their call to be answered, then to be further insulted by experiencing a delay in call handlers ringing them back with advice. Patients were given the wrong advice, with blame attributed to poorly-trained staff (3).
Asons Executive, Thomas Fairclough, commented on the programme –
"While it seems the service was launched with the best of intentions, it was not carried out with the ground-level expertise required. It is frightening to think that staff, given minimal training, were trusted to give medical advice.
It is not good enough; patients were encouraged to put their trust in the 111 system, and them being given incorrect advice is potentially dangerous.
For example, women could have called with the symptoms of ectopic pregnancies. If these were not recognised and prompt medical attention was not sought, they could have potentially suffered a rupture within their fallopian tubes. Ruptured ectopic pregnancies have potentially devastating psychological and physical effects, with long term implications associated with future health and fertility.
A health service advice line providing poor advice is tantamount to medical negligence."
In the event that you consider yourself to have been subject to medical negligence, you must seek legal advice as quickly as possible. Taking action can prevent the same situation from reoccurring, helping others to avoid injury in future.
If you, or someone you know, have suffered as a result of misdiagnosis, non-treatment, or even through the administration of the wrong treatment, then you may be able to make a claim for compensation. Asons Solicitors deal with medical negligence claims on a regular basis, you can contact them on: 0844 850 1062 or you can fill out their claim form at http://www.asons.co.uk
-Sources-
(1) http://www.thisisbath.co.uk/Official-NHS-111-line-safe/story-19056074-detail/story.html#axzz2VKparJkg
(2) standard.co.uk/panewsfeeds/patients-harmed-by-111-service-8626127.html
(3) guardian.co.uk/society/2013/may/04/nhs-helpline-failings-sui-111
About Asons Solicitors:
Asons Solicitors is a Bolton-based law practice that specialises in personal injury and industrial disease claims. Founded by brothers Imran Akram and Kamran Akram, Asons Solicitors has developed to become a young and dynamic law firm that delivers practical solutions to clients in times of difficulty. Their continued focus on their staff has seen them awarded with the Investors in People "Gold Award"; which is reflected in the professional and personable approach they take in working with clients. They strive to grow and to develop, and their supportiveness and attention to detail ensures that their clients use them time and again.
For further information contact:
Email: info@asons.co.uk
Website: http://www.asons.co.uk