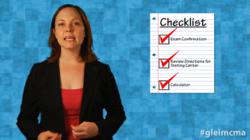 When preparing for the CMA exam I am motivated by seeing how the CMA designation benefits other professionals. I want to have the same impact on other candidates. This series addresses candidates most frequently asked questions. - Melissa Leonard
New York, NY (PRWEB) June 12, 2013
The Gleim Pass the CMA Exam video series, now available on YouTube, is an ongoing video program for CMA candidates. The videos, which are written and narrated by successful CMA candidate Melissa Leonard, walk candidates through important study tips and give solutions to common sources of exam preparation anxiety. All the videos in the series are short and concise to make the most use of a candidate's time.
Melissa understands from her own journey to pass the exam the needs, questions, and common frustrations that come with getting certified. She is also tapped into feedback from thousands of Gleim CMA customers, which she integrates into her presentations in order to address a wide variety of exam experiences. If CMA candidates have ever wondered what to do during the last week before sitting for the CMA exam, or which calculator to bring Prometric, Gleim has the answers to those questions in the CMA video series here.
At the time of this release, the Gleim Pass the CMA exam series features 11 videos. Currently, the most popular videos in the series are Series Intro, Study Sacrifices, and CMA Study Time – Staying on Track. Future videos will be based on questions and comments left on the Gleim social media pages. Subscribe to the Gleim YouTube channel to be the first to view new videos as they become available.
Besides strategies on issues such as time management, the key to successful CMA exam preparation is a quality review program. The Gleim CMA Review System is expertly authored by true educators and includes one of the largest question banks in the industry. Click here to try Gleim Online, an integral part of the Gleim CMA Review System, for free here.
Good luck CMA candidates!
Team Gleim