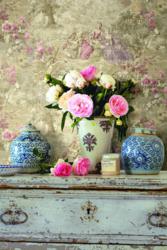 These timeless wallpapers create a warm and gentle atmosphere.
Wayne, PA (PRWEB) June 06, 2013
Inspired by the serenity and natural beauty of the peaceful French countryside comes the new French Linen wallcovering collection by Wallquest, Inc.
Wallpaper became prevalent in France as a substitution for fabric that covered the walls in homes of the nobility, and by the end of the 1800s – coincidently, corresponding with the rise of the fledging Wallquest owned then by the LaFoy family of Lyon – people used wallpaper as a less expensive way to cover walls.
Designed and styled as a collection that emphasizes room-to-room coordination and a lifestyle approach to decorating, the color palette is a blend of historic colors mixed with trending schemes of soft blues, dusty roses and an earthy neutral mix of delicate tones.
Walk from room to room adorned with the French Linen collection and be transported to a flowery garden à la Claude Monet, a classic Parisian parlor, or a breezy, golden afternoon. Infused with linen-like textures and printed with flowers, these timeless wallpapers create a warm and gentle atmosphere.
A signature of France, the flower emblem is used luxuriously throughout the collection. When used in home décor, the fleur-de-lis sits in the middle of the wallpaper's repetitive design like a crest, with other design elements dancing around it. The beauty of the antique floral displays is kept intact in the engraving process used by Wallquest, preserving all of the gentle worn textures and softness that comes with document designs.
Grasscloths are coordinated to work within specific color ranges, or can be used on their own. The Damasks are uniquely designed on textural grounds. The classic Damask patterns are printed in a palette that ranges from quiet neutrals to polished and luminous to eye-catching bold, creating a collection that suits even the most eclectic tastes.
In addition to the aesthetic appeal, the new French Linen designs are Wallquest Eco Chic™ certified to have as little impact on the shared eco-system as possible.
The heritage of Wallquest goes back to the 1820's. Quality, color and design, product innovation and unwavering dedication to tradition have earned the company a respected place in the global home furnishings sector. The company is now family owned, and its products are sold in more than 30 countries. For more information, visit http://www.wallquest.com.