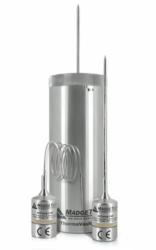 Warner, NH (PRWEB) June 04, 2013
The thermal barrier is made from a stainless steel enclosure containing a Dewar flask and PTFE insulation. This durable system can withstand temperatures up to 250°C when completely submerged and 350°C in dry heat applications (O-Ring removed). The ThermoVault140 is built for use in harsh applications that require extreme temperature monitoring, such as with furnace profiling, geothermal down-hole recording, and oven data logging.
Using the MadgeTech software, the data logger is fast and easy to set up. Simply open the enclosure and insert the data logger into the IFC400 docking station (sold separately). Using the software, an immediate or delay start can be chosen, as well as the reading rate. Select Start to program the settings and start the data logger. Place the cap back onto the enclosure and screw it back together. The device is ready to be deployed.
The ThermoVault140 includes the thermal barrier only. The ThermoVault140-5.25-TD includes the thermal barrier as well as a HiTemp140-5.25-TD data logger. The ThermoVault140-PT-1 includes the thermal barrier as well as a HiTemp140-PT-1 data logger. The 5.25" probe is ideal for ambient temperature monitoring, while the 24" flexible probe can be easily adjusted to measure hard-to-reach locations, or even the internal temperature of a product.
The ThermoVault140 barrier purchased separately is priced $1699.00 USD or you can purchase the complete system including either the HiTemp140-5.25-TD or HiTemp140-PT-1 data logger for $1999.00 USD. For more information please visit http://www.madgetech.com or call (603) 456-2011.