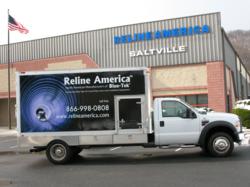 After 18 years in the pipe rehabilitation industry and having observed the comparative level of quality assurance and quality control achievable with UV CIPP, I am very pleased with the opportunity to work for Reline America. - Grant Whittle
Saltville, Virginia (PRWEB) June 02, 2013
With continuing improvements to support staffing, Reline America's customer satisfaction and market share both continue to grow; Reline America has achieved record first quarter revenues in 2013 and is poised to book significant sales growth for the year. Reline America has been preparing North America to adopt the advanced UV CIPP liner technology since first acquiring the rights to the leading European UV CIPP technology in 2005 and opening Reline America's Saltville, Virginia manufacturing facility in 2006. In July of 2012, Reline America began making key staff additions to prepare for pending rapid growth of the UV CIPP market. Jeff van Huet, who holds a Masters in Chemical Engineering and has extensive plant management experience, was hired out of the automotive industry as the new Reline America Plant Manager. In September of 2012, Grant Whittle, a trenchless industry veteran currently working to complete a Masters in Environmental Science and Engineering, was hired to oversee Technical Sales and Marketing. In March of 2013, Rob Fields, who holds a Mechanical Engineering degree, was brought on staff to oversee UV CIPP equipment production and maintenance.
Bridget Ball, who holds an MBA, continues to serve as the Administration Manager. Reline America, Inc.® continues to be led by Don Pleasants, CEO; Paul Minken, CFO; and Mike Burkhard, President.
Over the past five years, UV CIPP liners are reported to have risen from 20% to 70% market share in Europe. Although market share in North America for UV CIPP continues to be restrained by lack of sufficient construction capacity, specifier preference for UV CIPP continues to grow. Multi-national consulting engineering firms operating in North America have substantial experience with the performance advantages of UV CIPP through their European offices. With UV CIPP, integrated engineering controls (from system design, to manufacture, to project design, through to construction) work together to ensure that the "as-built" consistently complies with the "as-specified." Independent testing (such as on-going research by IKT labs in Germany) have validated and verified the performance of UV CIPP liners in actual practice. The consistent performance of UV CIPP lowers risk exposure for the design engineer, the contractor, and the end-user. As a result, consultants, contractors, and utilities across North America are actively seeking ways to leverage UV CIPP to improve pipe rehabilitation project performance; rapid North American growth of UV CIPP liner market share, as previously occurred in Europe, is subsequently expected. Wastewater and stormwater contractors seeking profitable new growth opportunities are encouraged to consider the use of UV CIPP and to contact Reline America.
About Reline America, Inc.®
Reline America is the leading North American manufacturer of ultra-violet glass reinforced cured-in-place pipe (UV CIPP) liners and of the award-winning Quality-Tracker System™ installation equipment (available for 6" to 54" pipe). Across America, pipes and culverts are getting older every day and in increasing need of renewal. Community and environmental impact are substantially reduced with the use of trenchless pipe rehabilitation. Project engineers and contractors are increasingly contacting Reline America to improve the quality of their utility pipe rehabilitation projects; learn more about Reline America's products on the World Wide Web at: http://www.relineamerica.com
Reline America's seamless, spirally-wound UV CIPP liners have a six-month, non-refrigerated shelf-life, cure more reliably, and are up to six-times stronger than legacy felt liners. Consistent quality, a 50+ year product life, and simple, cost-effective installation in sewers and storm culverts have UV CIPP liners rapidly displacing legacy felt-based technologies. Reline America's UV CIPP liner technology has been installed in over 25 countries world-wide.
Reline America, Inc.® has secured its place as the leading North American manufacturer of cutting-edge trenchless pipe rehabilitation products with a state of the art, ISO 9001:2008 equipment and liner manufacturing facility in Saltville, Virginia, together with an on-site, fully-staffed laboratory, machine shop, equipment maintenance shop, and product development department. For support of contractors, project engineers, and end-users, Reline America is staffed with civil, environmental, chemical, and mechanical engineering, along with electrical, construction, and utility asset management expertise.
Press Contacts:
Grant Whittle, Reline America, Inc.®
1.276.496.4000 gwhittle(at)relineamerica(dot)com
Bridget Ball, Reline America, Inc. ®
1.276.496.4000 bball(at)relineamerica(dot)com