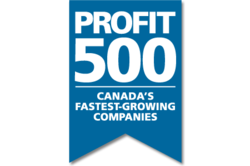 Our employees, contractors, customers and suppliers all deserve the recognition. It is extremely rewarding to see our vision of liquid cooling move towards becoming an industry standard. - Geoff Lyon CEO and CTO of CoolIT Systems
Calgary, Alberta (PRWEB) June 03, 2013
CoolIT Systems Inc., a leading supplier of Direct Contact Liquid Cooling (DCLC™) solutions for high-performance desktops, enterprise servers and data centers announced that it ranked No. 76 on the 25th annual PROFIT 500, the definitive ranking of Canada's fastest growing companies.
"It is an honor to be one of Canada's fastest growing companies," said Geoff Lyon, CEO and CTO of CoolIT Systems. "Our employees, contractors, customers and suppliers all deserve the recognition. It is extremely rewarding to see our vision of liquid cooling move towards becoming an industry standard."
Ranking Canada's Fastest-Growing Companies by five-year revenue growth, the PROFIT 500 profiles the country's most successful growth companies. Published in the summer issue of PROFIT and online at PROFITguide.com, the PROFIT 500 is Canada's largest annual celebration of entrepreneurial achievement.
"To celebrate the 25th anniversary of the Fastest-Growing Companies in Canada, the PROFIT 500 has expanded to recognize the entrepreneurial achievements of more than 500 Canadian companies," says Ian Portsmouth, Editor-in-Chief of PROFIT Magazine. "PROFIT is proud to now showcase Canada's forward-thinking small business entrepreneurs and honour their talents and innovations."
About PROFIT Magazine
PROFIT: Your Guide to Business Success is Canada's preeminent publication dedicated to the management issues and opportunities facing small and mid-sized businesses. For 30 years, Canadian entrepreneurs and senior managers across a vast array of economic sectors have remained loyal to PROFIT because it's a timely and reliable source of actionable information that helps them achieve business success and get the recognition they deserve for generating positive economic and social change. Visit PROFIT online at PROFITguide.com.
About CoolIT Systems
CoolIT Systems is a market leading engineering company that has been dedicated to the invention and design of state-of-the-art liquid cooling technology since 2001. With 43 patents and over 1 million Direct Contact Liquid Cooling (DCLC™) units deployed in desktop computers, servers and data centres around the world, our vision is to become the global leader in direct-contact liquid cooled IT solutions. (coolitsystems.com)