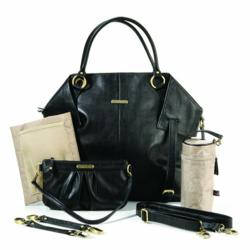 Stylish Yet Functional
West Des Moines, Iowa (PRWEB) June 04, 2013
Bliss Baby & Maternity is excited to announce the addition of Timi & Leslie Diaper Bags. The creation of Timi & Leslie, revolutionized the diaper bag and ushered in an era where moms could also be style icons. Timi & Leslie pioneered the stylish yet functional diaper bag movement. With celebrity fans that include Angelina Jolie, Cindy Crawford, Courtney Cox Arquette, Nicole Kidman, Jessica Alba and Jack Black, Timi & Leslie bags are the choice of parents who know luxurious style, practical function and great quality. Inspired by things vintage, Leslie started making bags from vintage fabrics and realized they would be great as diaper bag fabrics. Some of the diaper bags have a vintage fabric look in addition to the other great looking bags.
The Timi & Leslie Charlie Diaper Bag, a favorite of Jessica Alba, is roomy, stylish, nicely accessorized, and will appeal to those that pack a lot yet don't want to look like they are carrying around a diaper bag. It is large enough for multiples and multi-day trips. It comes with a matching accessory bag that functions well as an evening bag, a nicely sized oval changing pad with a pouch to carry a diaper, wipes, and cream, an insulated bottle holder, a small soiled items pouch, and stroller straps.
Many new moms don't want to spend a lot of money on a diaper bag when they go looking but investing in a good diaper bag is a must have for new moms. They don't have to be really expensive. There are so many things to buy when first having a baby but a good, functional diaper bag will be well worth what is paid for it and a cheap diaper bag may not stand up to what will be needed for organization. The Timi & Leslie diaper bags are roomy, organizational, light colored inside, and beautiful. No one will believe that these bags are actually diaper bags because they are so stylish. Moms, it's time to ditch the cheap, dysfunctional diaper bag and don't sacrifice that sense of fashion. The Timi & Leslie Diaper Bags are accessories that will make moms strike in style and will serve long past the diapering years.
Find a large variety of Timi & Leslie diaper bags at http://www.blissbabyandmaternity.com
and when entering Summer10 at checkout, receive an additional 10% off.