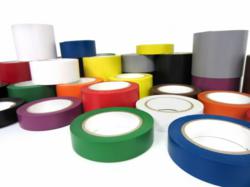 "Creating floor and wall designs is fun and affordable with vinyl floor tape. I love the idea the tape can be removed without harming the surface and new designs can be created."
Lake Oswego, OR (PRWEB) June 04, 2013
5S Vinyl Floor Tape is no longer just for floors. This industrial strength marking tape is a cost-effective multipurpose solution for color-coding tools and equipment, creating floor and wall designs, and whatever the mind can materialize. Creative Safety Supply is now offering vinyl tape for all needs including promoting organization and safety in workplaces.
Creative Safety Supply's vinyl tape is available in ten vibrant colors along with four variations of hazard colors and will meet everyone's needs as they are offered in widths of ¼ inch to 6". This tape can be written on with normal permanent markers and is resistant to aging, sun, water, fungus, bacteria, oil, acids, alkalies, and corrosive chemicals. It can also be used as a mask for hard chrome plating and anodizing or harness and pipe wrapping. The uses for this tape are endless.
Vinyl floor tape is becoming a popular product for design interiors that are making amazing floor designs for their artistic and somewhat eccentric clients. The bright bold colors balanced with healthy doses of white or black can make inspiring images and designs to fit anyone's personality. The single-handed, peel-n-stick application will make installation simple and quick; and when designs need to be changed, removing the tape is just as simple and will not leave any residue behind.
An interior designer commented, "Creating floor and wall designs is fun and affordable with vinyl floor tape. I love the idea the tape can be removed without harming the surface and new designs can be created."
Vinyl floor tape is perfect for identifying individual's tools and equipment. Tools commonly used in salons and repair shops can be misplaced or taken by accident if they are not properly marked with the owner's signature color. Organizing tools by color creates a leaner and organized work environment.
For more information about 5S Vinyl Floor Tape, please visit http://www.creativesafetysupply.com/Aisle-Marking-Tape or call toll-free (866)777-1360 to speak with a professional representative.