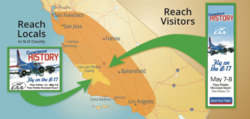 Ads are delivered to online viewers who are browsing and searching for the products and services a company offers.
San Luis Obispo, CA (PRWEB) June 01, 2013
Local businesses in San Luis Obispo County can now target their market with online display ads and promote their company on major websites in specific geographic areas are retarget people who have visited their website.
"Customers don't need to be reading a local news site to see the ads. They will appear on hundreds of national websites, but only in selected cities," say Scott Brennan, founder of Access Publishing, a San Luis Obispo SEO firm.
His company is now offering intelligent online display advertising that is geo-targeted on thousands of websites across the Internet to help small businesses connect with local customers.
"Our network employs behavioral and search based targeting," Brennan says. "Ads are delivered to online viewers who are browsing and searching for the products and services a company offers. Therefore they are more likely to be interested and call or click."
Geo-targeting allows banner ads to be displayed to consumers browsing the internet in a specific city or county. Access Publishing can launch a marketing campaign that will serve online display ads in San Luis Obispo County or desirable markets outside of the county like Los Angeles, Orange County, San Francisco, San Jose, Bakersfield and Fresno.
Inside the county, it's a perfect fit for small businesses in San Luis Obispo, Paso Robles, Atascadero, Morro Bay, Cambria, Arroyo Grande and Pismo Beach.
Access will consult, create, launch, monitor and report on your marketing campaign. The online display ad network finds your audience across hundreds of premium websites. The ads are visible on desktop computers and mobile devices.
Depending on marketing budget and desired geography, a company can run a high volume blitz of 300,000 impressions over a month, or spread the budget and impressions over a two to three month period.
Re-targeting is a key to successful marketing campaigns. Re-targeting allows ads to be delivered to viewers who have already visited a website.
"Have you ever noticed that the same ads seem to follow you around the Internet no matter what site you are on?" asks Brennan. "That's re-targeting."
"It is extremely effective because it leverages all of the advertising and marketing you are already doing by touching these people again with the ads. When they browse other sites over the days, weeks and months ahead your ad will be served up to them."
About Access Publishing
Access Publishing provides local business marketing solutions. Access is a local leader in online marketing, Internet advertising, local search engine optimization, SEO, SEM, web design, blog writing and graphic design. Access creates magazines, guides and directories in San Luis Obispo County, CA.
Access Publishing
806 9th Street
Paso Robles, CA 93446
(805) 226-9890