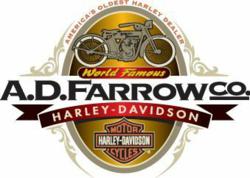 Columbus, Ohio (PRWEB) June 21, 2013
The Motorcycle Industry Council is now welcoming dealers to be part of the Council. The Council was created to promote and preserve motorcycling and the U.S. motorcycle industry. Given the mission of A.D. Farrow Co. Harley-Davidson to grow and serve motorcycling, it only seems appropriate that A.D. Farrow Co. owner Bob Althoff was invited to join the Dealer Advisory Council.
The Council has not allowed dealers or retailers to be members since 1974 and the change is much welcomed by dealerships across the country. The new advisory council will serve as a voice for the interests of the dealers. Membership dues the board receives from dealer members will be dedicated to market expansion, training and education, and government relation activities.
"It's an honor to be asked to join the MIC's Dealer Advisory Council," said Althoff. "I was one of 25 dealers from 18 states to initially join the MIC and I'm proud to be one of the first two members to serve on the advisory council. I believe that it's crucial for powersports dealers to come together and help support the MIC as they help support our industry as a whole. I look forward to being a contributing member of this united group and to assisting the new dealer members as they join our growing numbers."
Althoff will undoubtedly bring experience to the council as the owner of America's Oldest Harley Dealer with three central Ohio locations. The dealerships recently celebrated their 100th Anniversary on the 18-acre NorthStar Campus. Althoff was recently awarded the Dealernews Don J. Brown Lifetime Achievement Award, given to representatives of the powersports retail community who have demonstrated a lifelong dedication to the business, the lifestyle, the community and the sport. Althoff's efforts to grow and serve the motorcycling community are evident in his extensive involvement with the American Motorcyclist Association. A membership is given to each new bike buyer at each of the A.D. Farrow Co. Family of dealership locations. The AMA is known for its involvement in the fight for motorcycle rights.
It appears as though Althoff is doing his absolute best to keep the mission of A.D. Farrow Co. going as he takes positions within these associations to grown and serve motorcycling.