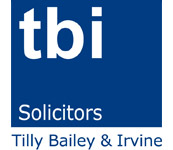 (PRWEB UK) 18 June 2013
As more employment insurance packages fail to cover businesses' legal needs, North East England firm, Tilly Bailey & Irvine Solicitors (TBI Law) has called on employers to 'think twice' before purchasing an 'Employment Law Consultancy' package.
More businesses are seeking expert legal guidance after finding their Employer's Insurance Package does not cover their legal needs, reports Theresa Carling, Employment Solicitor at TBI Law. Poor service from inexperienced legal advisors is also driving more businesses to seek specialist legal guidance from TBI Law.
"An employment package is an essential part of any businesses insurance programme. A retained package of employment law support may sound ideal for your company but we are witnessing many instances where it has proved to be a false economy," commented Carling.
Employers are turning to TBI Law after facing a series of problems from dealing with inexperienced advisors to poor legal advice and service. A worrying number of businesses are discovering their employment law packages do not cover them in cases regarding discrimination, equal rights and dismissal.
Sara McTrusty, HR Manager for MJF Cleaning Services in Darlington turned to TBI Solicitors with similar issues.
"From the minute I changed to TBI Law the communication, advice and support given instantly highlighted exactly what was missing with the original consultancy company," said McTrusty.
Recent research by Legal Consultants, Work Life Law identified 2012's top employment law issues and reported a significant rise in age discrimination claims, unfair dismissal claims, redundancy queries and human rights examinations.
Glen Cowan, HR Co-ordinator with CBL Cable Limited in Hartlepool sought legal advice when their retained employment consultants appeared to be steering their claim towards a very expensive tribunal award, without providing the support and advice they needed.
"Frustration with their service quickly led to us having no confidence in the legal team. We wondered whether there would be any benefit in having our case looked at by a specialist employment solicitor," commented Cowan
"With Tilly Bailey & Irvine Solicitors, we received expert practical advice from an experienced lawyer who we met face to face and kept us updated throughout the tribunal process. They always have an eye on the commercial reality of the situation. We have a great working relationship with our solicitor who has taken time to understand the impact on our business. She has approached our case with our company in mind, giving our case enough thought to ensure that we are fully protected and properly advised quickly and effectively."
Carling concluded: "Without taking time to get to know the client and the case, how can an advisor build the required trust needed to work on such cases?"
About Tilley Bailey & Irvine Solicitors
Tilly Bailey & Irvine Solicitors is the Tees Valley's largest full service law firm with offices in Wynyard Park, Stockton on Tees, Hartlepool and Barnard Castle. It has a multi-disciplinary business law team, based at Wynyard Park, offering expertise in fields including commercial property, mergers acquisitions and disposals, intellectual property, employment and dispute resolution. For further advice, contact Tilly Bailey & Irvine Solicitors on 01740 646000 or see http://www.tbilaw.co.uk.