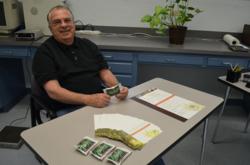 Loma Linda, Calif. (PRWEB) June 02, 2013
With every one-ounce bag of walnut that he consumes each day, Philip McCririe is helping unlock the potential of the popular, nutrient-dense nut in improving health.
McCririe is one of the participants in the Walnuts and Healthy Aging -- also known as the WAHA -- study, a major, new study out of Loma Linda University School of Public Health that seeks to discover if walnuts play a role in healthy aging.
"I think it's fascinating to be part of this study," says McRirie, 71, a retiree from Fontana, Calif. "I've always been a fan of nuts, and I've always been interested in being healthy."
The study, expected to last for two years, will look at the health outcome for 350 men and women, from 65 to 75 years, who are grouped into two: The "walnut group" will pursue their normal life and diet, in addition to eating walnuts daily; while the control group will pursue their normal dietary routines, while avoiding eating nuts completely.
Dr. Joan Sabate, the study's principal investigator, says that pioneering research conducted at Loma Linda University two decades ago gave definitive proof that walnuts improve heart health.
"Now, we will attempt to determine if walnuts help in healthy aging as it relates to memory, cognition, eye health, nutritional status, and overall well-being," he says. "These participants will be involved in contributing to the advancement of nutritional science and in discovering if walnuts play any role in healthy aging."
An early campaign to get people to volunteer as study participants has brought a number of participants, but more are needed and people are encouraged to participate, says Sabate.
Qualified participants must be between 65 to 75 years old; fluent or have a working knowledge of English; be willing to report regularly on the food they eat; and be able to come to Loma Linda University for 30 minutes once every two months. People who are allergic to walnuts, extremely obese, or have uncontrolled diabetes or hypertension are not qualified to participate.
A person who participates will receive a free individualized health assessment, valued at over $2,000, that includes an eye test; blood cholesterol test; memory and cognition assessment; height, weight and percent body fat measurements; and assessments of diet and lifestyle habits.
McCririe says the prospect of receiving supplemental health assessments, such as the eye test, attracted him to sign up for the study. "Medicare does not cover eye care, so the eye exam appealed to me," he says.
In the two months that he's consumed walnuts supplied to him by the study organizers, he says he's noticed some changes in his health. "I swear my eyesight has changed," he said. "I have bifocals and I keep taking them off. Sometimes, I just take them off and keep on working in front of the computer."
For more information, visit http://www.WAHAstudy.org or call 909-558-4300 ext. 47170 or 1-877-558-6248 (1-877-LLUMC4U).
Photo Caption: Philip McCririe, 71, of Fontana, Calif., is one of the participants in The Walnuts and Healthy Aging, or WAHA, Study, a major new study from Loma Linda University School of Public Health that examines the role walnuts play in healthy aging. More subjects are being sought for the study.
###
About Loma Linda University Health (LLUH)
Loma Linda University Health includes Loma Linda University's eight professional schools, Loma Linda University Medical Center's six hospitals and more than 900 faculty physicians located in the Inland Empire of Southern California. Established in 1905, LLUH is a global leader in education, research and clinical care. It offers over 100 academic programs and provides quality health care to 40,000 inpatients and 1.5 million outpatients each year. A Seventh-day Adventist organization, LLUH is a faith-based health system with a mission "to continue the teaching and healing ministry of Jesus Christ."