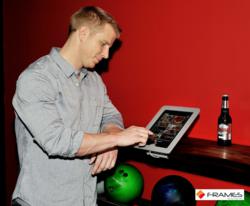 Ordering can be completed easily from the device, without having to flag down a bartender or server.
New York, NY (PRWEB) June 07, 2013
While restaurants and entertainment establishments in ANY city need to remain ahead of competitors to keep customers loyal, in a city like New York, filled with thousands of fantastic dinner and nightlife options, it is no longer enough to update a menu from from Fall comfort food to light Springtime dishes to retain clients. These restaurant kitchens are constantly tasked with discovering unique, organic and flavorful ways to both tease the palate and remind diners of home.
Frames Bowling Lounge has decided to excite customers by rolling out new Spring Menus on interactive laneside eMenus on meticulously placed iPads in their 35,000 square foot Bowling Complex on 40th street in Midtown Manhattan.
With an iPad screen locked into place on every lane, Frames can display beautiful robust photographs of menu offerings in an interactive and visually tantalizing way. Ordering can be completed easily from the device, without having to flag down a bartender or server. The food and cocktails are displayed in vivid color, accompanied by a description of each item with pricing, as well as any kitchen modifications available for that dish. Meat and fish items require an input of customized temperature such as well done or medium rare before sending orders to the kitchen for prep. Salad items will request your preference of dressing on the side, and burger modifications can include bacon, avocado or no fries.
In a dimly lit restaurant, paper menus can prove tricky to read, with potential ambiguity over portion size or dietary restrictions. The eMenus help minimize server mistakes, not to mention the need to muscle your way to the crowded bar to place a drink order.
Hey, if technology can get you a round of beers faster, bring on the gadgets.
ABOUT FRAMES
For two years and counting, Frames Bowling Lounge has brought modern sophistication to the age-old, carefree sport of bowling. Located on the corner of 9th Ave and 40th Street, Frames is more than just a bowling alley. The 35,000 square foot entertainment complex boasts 28 bowling lanes, a private VIP room, two bars featuring an extensive liquor selection, a full-service billiards lounge, a game room housing 25 interactive games, and a plush dance lounge.
Frames is located at 550 9th Ave, NYC, and is open seven days a week, Monday-Wednesday 12pm-12am, Thursday-Friday 12pm-3am, Saturday 11am-3am, and Sunday 11am-11pm. To inquire about party packages and reservations, contact an event planner at Frames Bowling Lounge: (212) 268-6909, or email sales(at)framesnyc(dot)com.