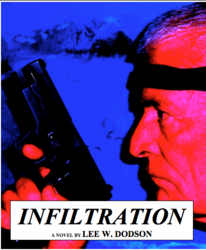 "Besides, Infiltration is a book, a few hours of fun, and it's an e-book so it can be downloaded in less that a minute from anywhere, but the underlying theme, I've been told, is frighteningly possible as can be seen in the reviews."
Los Angeles, CA (PRWEB) June 25, 2013
Booked for personal appearance at The American Heroes Air Show Saturday, June 29, from 9 am to 4 pm PDT at Hansen Dam Park, respected Terrorism Writer, Lee Dodson offers complimentary copies of his novel, Infiltration to United States Senators before they vote on S.744, colloquially called the Amnesty Act. The novel, while written as entertainment, exposes what the writer describes as "the soft underbelly of the nation."
The American Heroes Air Show is a natural venue for Dodson to speak personally with readers who are politically aware of the work the military, law enforcement, firefighting personnel do every day because they will be there. The writer is honored to be in the same environment with these brave and dedicated people.
After producing a smashing success with his Homeland Terrorism Survey and achieving over 29,000,122 responses as of June 23, 2013, Dodson revealed his offer in hopes that the Members of the World's Greatest Deliberative Body will come to a greater understanding of exactly what is possible if the southern border is breached.
"Look,Infiltration is a story," the writer said. "But I researched what I created and found that it is possible to strike at us from inside our borders. Not only that, I've had technically gifted readers who have told me they were surprised by the book and that their expertise agreed with the terrorism premise. One told me that what I proposed would cost under a million dollars to mount."
The writer stated that the public is well aware of the risks the country faces, and he numbers to substantiate his claim. Dodson mounted a non-scientific survey expecting fewer than 50,000 responses. He was shocked that press releases and Twitter feeds could produce such numbers, but here below, one can view the stunning statics in answer to ten straightforward questions:
Today's view on homeland terror
Do you expect another major terrorist attack on the United States, including Hawaii, Alaska, or any of its territories?
Yes 99%+----No 1%-
Do you expect there to be great loss of life?
Yes 99%----No 1%
Do you expect a WMD to be used in the attack, i.e. poison gas, biological weapon, nuclear weapon?
Yes 99%----No 1%
Do you expect foreign nationals to carry out an attack?
Yes 99%----No 1%
Do you think sleeper cells are already in the United States?
Yes 99%----No 1%
Do you think you might have to defend yourself from terrorists in this country?
Yes 99%+----No 1%-
Do you think the U.S. government will be able to defend against a homeland invasion?
Yes 1%----No 99%
Do you believe that the current administration is truthful about terrorism in this country?
Yes 1%----No 99%
Do you think that we as a nation believe that terrorism is over?
Yes 1%----No 99%
Do you know enough about what to do if a terrorist attack strikes near where you live or work?
Yes 2%----No 98%
The writer was equally shocked when, given the viral exposure, not one network or cable news show called for information.
Asked what the goal of the challenge is, Dodson answered "I would like for these people who represent us to have the same imagination I have, that our enemies have, and to react accordingly. If they tweet me @skshtgr11, tell me to call, I'll get their e-mail address and send it immediately, or they can simply buy the book from the usual suspects like Amazon."
"Besides, Infiltration is a book, a few hours of fun, and it's an e-book so it can be downloaded in less that a minute from anywhere, but the underlying theme, I've been told, is frighteningly possible as can be seen in the reviews."
Stop The Insanity writer, David Welch writes:
I'm partial to books with a relevant political message. Fiction books with a political message are typically not great for entertainment value but I am willing to accept that, if the political message is one I feel worthwhile.
"Infiltration" definitely has a political message, and an important one. But at the same time it is an exciting adventure story that starts fasts and accelerates to the end. Once I started reading I couldn't put it down and read it in one sitting. I was so thrilled by the story itself that I almost forgot the political message, but it was there in plain sight: Our porous borders, particularly the one in the south, represent a serious threat to the security of our country since they can easily be infiltrated by terrorists looking for a way inside. It is a threat we should not take lightly after 9/11 and more recently after the terrorist attack in Boston.
The story itself involves a group of terrorists taking advantage of our poorly protected border with Mexico and sneaking in a weapon that can do serious damage to the U.S. The only thing standing between them and success is an old rancher who puts up a hell of a fight. Does he succeed in stopping them? Buy the book and find out for yourself. It is a great bargain and $1 from the sale of every copy goes to the Semper Fi Fund which helps needy Marines and their families.
Highly, highly recommended!
The writer states "If one is not a reader, one can always donate directly to the Semper Fi Fund directly by going to the website and giving there."
Support us through CFC! Find us under "Injured Marine Semper Fi Fund" CFC#11459
Dodson appears on Gary Sheler's Morning Show (KAAA/KZZZ) some mornings 7 am MST, and expects more appearances on Conservative talk-radio shows to be announced in the next weeks. "I'll take anyone that asks," is Dodson's reply. The writer is scheduled for a live appearance at the American Heroes Air Show, June 29, Hansen Dam Park in Los Angeles 9 am through 4 pm.
Dodson's book, Infiltration, is now available at smashwords.com in all formats, Amazon in Kindle format with a sequel out in September 2013. He is also author of This Never Happened, a story based on the disappearance of the Anasazi race, and his new book, Daylight Raid, is set for release in late July 2013.
Price: $4.32 retail $1.00/ copy to Semper Fi Fund
323-243-0404
vndk8r@gmail.com
http://www.skoshitiger.com/
Twitter: skshtgr11