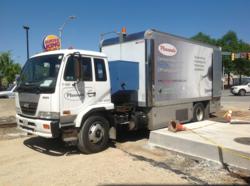 The ability to on-site manufacture and maintain every component of the equipment in Saltville, Virginia, permits Reline America to provide superior after the sale equipment support.
Saltville, VA (PRWEB) June 02, 2013
In May 2013, Pleasants Construction of Clarksburg, Maryland has further advanced the UV CIPP know-how available to all of Reline America's System Integrators by successfully completing a challenging project in Maryland, wherein they lined multiple long-lengths of 42" to 48" brick stormwater pipes, including a 460 linear foot liner that weighed approximately 24,000 lbs. The high-strength, thin profile of UV CIPP allows for even large diameter liners (currently up to 54") to be produced at the ISO 9001:2008 quality controlled Reline America manufacturing facility and shipped for installation; the vagaries of over the hole CIPP tube wet-out are avoided and the comparatively light weight of UV CIPP liners simplify construction.
Reline America's in-house mechanical engineer and other staff worked with Pleasants Construction to help develop new and improved field construction aids that simplified the insertion, placement, and processing of the large UV CIPP liners. When Reline America, Inc.® began domestic manufacturing operations in 2006, after acquiring the rights to the leading European UV CIPP technology in 2005, the parent company also established a pipe rehabilitation division within Pleasants Construction; Pleasants Construction (servicing Maryland, DC, Virginia, and West Virginia) has since developed into one of the largest users of UV CIPP liners in North America. Reline America's continuous product development is assisted by this sister company routinely utilizing the equipment and liner products in the field. When a contractor or utility purchases equipment and/or liners from Reline America, and thereby becomes a Reline America System Integrator, that purchase also provides access to the construction management and field expertise available through Pleasants Construction.
Whereas there are numerous companies willing to sell UV CIPP equipment and/or liners to contractors and utilities, Reline America uniquely provides unparalleled access to North American UV CIPP expertise and support after the sale. After bringing the European UV CIPP technology to North America, Reline America quickly learned that the harsher working conditions routinely encountered in North America required significant re-engineering of the UV CIPP equipment for improved durability. For this reason, Reline America has, from the beginning, integrated an on-site machine shop, equipment maintenance shop, and product development department. The ability to on-site manufacture and maintain every component of the equipment in Saltville, Virginia, permits Reline America to provide superior after the sale equipment support.
The staff of Reline America makes a point of routinely communicating with all of the contractors and utilities within the Reline America System Integrator network in order to keep abreast of new UV CIPP accomplishments and developments in the field. With nearly one million linear feet of Reline America liners already installed across North America over the past 7 years, Reline America is in a unique position to support North American project engineers, contractors, and utilities with their UV CIPP liner projects. With over 15 million linear feet installed by their international partners, Reline America has access to hands-on experience with overcoming almost any design or field construction challenge. When a new Reline America installer approaches a prospective client about a project, they can be confident that Reline America has "been there and done that" and has the available expertise in North America to support even the most challenging projects.
About Reline America, Inc.®:
Reline America is the leading North American manufacturer of ultra-violet glass reinforced cured-in-place pipe (UV CIPP) liners and of the award-winning Quality-Tracker System™ installation equipment (available for 6" to 54" pipe). Across America, pipes and culverts are getting older every day and in increasing need of renewal. Community and environmental impact are substantially reduced with the use of trenchless pipe rehabilitation. Project engineers and contractors are increasingly contacting Reline America to improve the quality of their utility pipe rehabilitation projects; learn more about Reline America's products on the World Wide Web at: http://www.relineamerica.com
Reline America's seamless, spirally-wound UV CIPP liners have a six-month, non-refrigerated shelf-life, cure more reliably, and are up to six-times stronger than legacy felt liners. Consistent quality, a 50+ year product life, and simple, cost-effective installation in sewers and storm culverts have UV CIPP liners rapidly displacing legacy felt-based technologies. Reline America's UV CIPP liner technology has been installed in over 25 countries world-wide.
Reline America, Inc.® has secured its place as the leading North American manufacturer of cutting-edge trenchless pipe rehabilitation products with a state of the art, ISO 9001:2008 equipment and liner manufacturing facility in Saltville, Virginia, together with an on-site, fully-staffed laboratory, machine shop, equipment maintenance shop, and product development department. For support of contractors, project engineers, and end-users, Reline America is staffed with civil, environmental, chemical, and mechanical engineering, along with electrical, construction, and utility asset management expertise.
Press Contacts:
Grant Whittle, Reline America, Inc.®
1.276.496.4000 gwhittle(at)relineamerica(dot)com
Bridget Ball-Moritz, Reline America, Inc. ®
1.276.496.4000 bball(at)relineamerica(dot)com