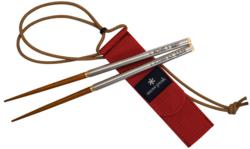 Personalized chopsticks make a truly unique, unforgettable and inexpensive Father's Day gift.
Eugene, OR (PRWEB) June 03, 2013
Struggling to find a gift for dad for Father's Day? Tired of giving him another tie or barbecue tool set? Well if he likes to eat Asian food give him a pair of personalized chopsticks.
Personalized chopsticks are a pair of durable chopsticks with his name or personal message engraved or etched into the handles. They are a classy, fun and inexpensive way to express his personal style.
These chopsticks take one or two days to manufacture and a few more to deliver by first class mail so there is still time to order for this Father's Day, June 16th.
There are dozens of new styles and colors of chopsticks to choose from starting at $16.95 a pair. One of the favorites however is the Snow Peak Personalized Travel Chopsticks at $49.95 per pair. They collapse and fit into a small travel pouch for easy transport to the office or restaurant. Plus the tips are made of recycled baseball bats from the Japanese professional baseball league.
Another unique personalized chopstick choice is stainless steel. They are the ultimate in durable chopsticks and cost $24.95 a pair. Personalized chopstick boxes for storing and carrying his chopsticks are even available.
Personalized chopsticks can be found at a few select online stores. Two of those, EverythingChopsticks.com and Personalized-Chopsticks.com, offer a large selection, competitive prices and fast turnaround times.
About Everything Chopsticks
Everything Chopsticks (http://EverythingChopsticks.com) has been a leading provider of chopsticks since 2005, specializing in quality chopsticks from Asian cultures around the world.