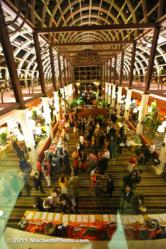 A. Duda & Sons, Inc. has maintained family tradition as it built its legacy and served the community. We are proud to honor them at this year's Evening in the Grove.
Maitland, FL (PRWEB) June 02, 2013
The Art & History Museums – Maitland (A&H) announces its 15th annual gala event, Evening in the Grove, an Orange, White and Green Gala, to be held on Saturday, September 28, 2013 from 6:00 PM until 10:00 PM at the Sheraton Orlando North Hotel in Maitland. Evening in the Grove has been lauded as one of Central Florida's best fundraising events for its unique historical theme and entertainment, combined with an exciting auction, friends and fun.
Evening in the Grove is a noteworthy event celebrating Central Florida's citrus history. Each year, the A&H honors an individual, family, or business that has made a significant, positive impact on Central Florida history. This year, the A&H is proud to honor A.Duda & Sons, Inc., a family-owned company that, since its founding in 1926, has been a leader in agricultural innovation and community involvement, and, more recently, the promotion of healthy lifestyles.
"From the first celery crop planted in 1925, to the successful international company that it is today, A. Duda & Sons, Inc. has maintained family tradition as it built its legacy and served the community. We are proud to honor them at this year's Evening in the Grove," says Andrea Bailey Cox, A&H Executive Director/CEO. "Through a range of programs, A. Duda & Sons, Inc. demonstrates its passion for giving back to the Central Florida community and its commitment to its mission of producing healthy food products. From donating Nature's Deli salad bars to numerous Seminole County schools to incorporate healthy, fresh foods into students' lunches, to donating 40,000 pounds of fresh produce to SCPS' Families in Transition program just this past year, to being a long time leader in celery development, A. Duda & Sons, Inc. is a tremendous asset to Central Florida."
"Speaking on behalf of the Duda family, we are honored to be chosen for this recognition," said David Duda, President and CEO of A. Duda & Sons, Inc. "As a family and in our business, we have been blessed, and we believe in sharing those blessings with others."
Don your most festive orange, white and green cocktail attire and join us in the Grove! Evening in the Grove begins with a VIP reception and continues with a silent auction and cocktail reception. Have your photo taken in the Grove as you enjoy this gala evening with friends. The evening culminates with a tribute dinner, entertainment, and live auction. This year, in celebration of A. Duda & Sons, Inc., the A&H incorporates celery into its citrus theme, adding an additional element of whimsy.
The silent and live auctions feature a variety of items including art experiences, travel opportunities, sporting tickets and apparel, attraction and dining experiences, golf outings and wearable art. Art and culture lovers are sure to be excited about the numerous artworks, hand-crafted jewelry, and passes to area cultural institutions, all up for bids.
Proceeds from Evening in the Grove benefit A&H art and history educational programming.
Tickets to Evening in the Grove are on sale for $70 for A&H members and $75 for not yet members. Corporate Tables of 10 are available for $1000 each. Sponsorship opportunities range from $1500 to $10,000, each with numerous benefits and marketing opportunities, including tickets to the private VIP reception.
Current Sponsors are New Traditions Bank and BB&T.
For tickets and sponsorship information, phone Devin Dominguez at 407-539-2181 x 262 or visit http://www.ArtandHistory.org.
About the Art & History Museums - Maitland:
The Art & History Museums – Maitland (A&H) is a premier Central Florida cultural institution and community gathering place, combining the best of both art and history. Its unique architecture, beautiful gardens, quality exhibits and programming, and two sites listed on the National Register of Historic Places make it a must visit cultural destination. Our museums offer unparalleled opportunities for enrichment and inspiration. Programming includes art classes and workshops, hands-on history programs, interactive exhibits, professional artists working in their studios, and much more. Our two campuses include a 1937 artists' colony with Aztec and Mayan architectural influences, a Victorian house museum, a working antique tool museum, an interactive telephone museum, and a local history museum. There is something for everyone and each experience is well worth the trip.
The A&H's Maitland Art Center hours are Tuesday – Sunday, 11 AM – 4 PM. The A&H's Maitland Historical Museum, Telephone Museum, Waterhouse Residence Museum and Carpentry Shop Museum hours are Thursday – Sunday, 12 – 4 PM. Visit us online at http://www.ArtandHistory.org.
# # #