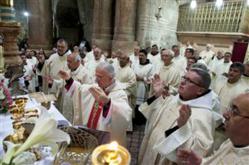 The Sacrament of the Eucharist...transforms the death and violence of the Passion of Christ into an act of love.
(PRWEB) June 03, 2013
The Franciscans have a long history in the Holy Land - over 800 years. They are the Custodians of the Holy Sites. Therefore, it is fitting that they would celebrate the Feast of Corpus Christi right where Jesus offered the ultimate sacrifice of His Body and Blood on the Cross.
This year's celebration was presided over by Monsignor Shomali who said, "The Sacrament of the Eucharist that we celebrate today transforms the death and violence of the Passion of Christ into an act of love, a source of energy." He went on to say that it is the Eucharist that enables us to love and should be transformational for our daily lives.
The celebration at the Church of the Holy Sepulchre began at First Vespers on Wednesday night and continued with the Office of Compline, the Prayer at the end of the day.
Fr. Pierbattista Pizzaballa OFM, Custos of the Holy Land and Chairman of the Franciscan Foundation for the Holy Land returned to lead the Office of Readings of the feast before the empty tomb.
Some of the faithful Christians in the area, along with pilgrims from all over the world, were able to soak in the significance of the moment and show gratitude for this wonderful expression of God's great love for us all.
Unfortunately, because of restrictions and barriers, many of the local priests and parishioners were unable to travel to Jerusalem and the Church of the Holy Sepulchre to celebrate this important feast. Lack of freedoms and mobility continue to put great hardships on the Palestinian Christians.
However, It is still a great day for priests. The first feast of the Holy Eucharist is Holy Thursday when we commemorate the institution of the Eucharist and the Sacrament of Holy Order at the Last Supper. This feast celebrates the Real Presence of Christ in the Eucharist as offered by our priests for us.
The eighth Thursday after Easter is the traditional day to celebrate Corpus Christi, making it a moveable feast. This year it fell on May 30th for most of the world but in the United States, the celebration took place on Sunday, June 2, 2013.
Many churches have processions and special liturgies followed by adoration. Don't miss the opportunity to celebrate this amazing feast. Find a parish in your area that is having a procession and join it. Then spend some time in adoration before the Blessed Sacrament contemplating the wonder of it all.