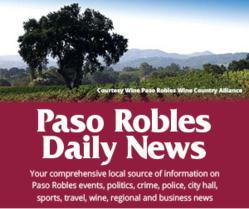 The goal is to bring together all news about Paso Robles on one site.
Paso Robles, CA (PRWEB) June 02, 2013
A new website is providing up-to-the-minute reporting on Paso Robles events, top stories, breaking news and more.
The Paso Robles Daily News was launched recently to provide original reporting, local press releases and summaries of news from several local media sources to provide one place for readers to catch up on the latest news in community, business, events, wine industry, crime, politics, sports and more.
"The goal is to bring together all news about Paso Robles on one site for the convenience of local readers," says Scott Brennan, owner of Access Publishing in Paso Robles. Brennan is a long-time newspaper reporter, editor and publisher.
""I enjoy reading news in the Paso Robles Press, San Luis Obispo Tribune and New Times SLO, listening to it on news radio like KPRL AM 1230, and watching it on KSBY and KCOY TV news," Brennan says. But there wasn't one comprehensive site that brings it all together. So I decided to create one."
The news website already has quite a following with more than 2,500 active Facebook fans and Twitter followers and more than 1,000 visits on a daily basis. "I'm really pleased with the response from the local community," Brennan says. Everyday we are getting more positive feedback, news tips and press releases from local businesses and organizations.
Press releases are welcome from local clubs, teams, companies and organizations looking to promote their news, events and activities. Submissions are subject to editing. Advertising on the website is available to local companies.
Recent headlines include:
Home under construction goes up in flames
Suspect arrested at hotel with heroin and meth
Vina Robles Amphitheatre Announces Concert Series
Affordable Paso Robles website developer
Trace Adkins performing at Mid-State Fair
Artisan of Paso Robles is on the move
Smart & Final opens soon in Paso Robles
Rural Paso Robles water group elects officers
Best House Painter In Paso Robles
Paso Robles Daily News
806 9th Street
Paso Robles, CA 93446
(805) 226-5714