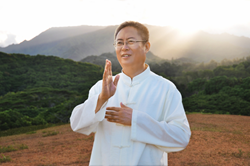 Boulder, CO (PRWEB) June 03, 2013
New video testimony shows 63-year-old Prem Richards's personal story of how he was experiencing hearing loss in both ears and for 35 years has endured constant ringing in his ears that prevented him from enjoying life to the fullest. Prem sought consultation with world-renowned soul healer Dr. and Master Zhi Gang Sha at a recent Intensive Soul Healing event in Boulder, CO where he received soul healing, acupuncture and practiced sound therapy techniques with the live audience. During the demonstration, Prem tells the live audience that some of his hearing was regained and the constant ringing in his ears was eliminated. There are more than 1,000 Soul Healing miracle videos and more than 100 Divine Healing Hands personal Soul Healing miracle testimonial videos posted to Dr. and Master Zhi Gang Sha's YouTube Channel (http://www.youtube.com/zhigangsha ). Everyday people all over the world are experiencing personal Soul Healing miracles and sharing their video testimonials so that others can benefit from the power and life-changing results of Divine Healing Hands. Hear Prem's joyful testimony as he thanks Dr. and Master Zhi Gang Sha for relieving his discomfort and helping him to hear better: http://www.youtube.com/watch?v=Q2d50IVzZd8&list=PLHahjVJx5zf9IlJAV0OS-jC_5QBugYyhu&index=39
New York Times bestselling author, Divine channel and the soul healer for all of humanity, Dr. and Master Zhi Gang Sha has opened a path to harmony by sharing ways to transform every aspect of a person's life. "Being a direct channel from God," says Master Sha, "I focuse on Soul Power and I deliver enlightenment by lifting a person's soul to a higher spiritual level in heaven."
Dr. & Master Zhi Gang Sha is a world-renowned master healer, the soul leader, and a divine servant. He is the founder of Soul Mind Body medicine. . He was trained as a conventional medical doctor in China and a doctor of traditional Chinese medicine in Canada and China. The founder of the Institute of Soul Healing and Enlightenment™ and the Love Peace Harmony Movement™, Master Sha is a grandmaster of many ancient disciplines, including tai chi, qigong, feng shui, and the I Ching. Master Sha is also an expert in the most advanced cellular healing science now occurring in China. In the West, he is involved in breakthrough research on the effects of spirit on the human system. Dr. Sha was named Qigong Master of the Year at the Fifth World Congress on Qigong. In 2006, he was honored with the prestigious Martin Luther King, Jr. Commemorative Commission Award for his humanitarian efforts.
Dr. and Master Zhi Gang Sha has more than 80,000 followers on Facebook and over 200,000 devotees worldwide. There are more than 1,000 Soul Healing miracle videos posted on Dr. and Master Sha's YouTube Channel (http://www.youtube.com/zhigangsha ), with over 1.1 million views. Everyday people all over the world are experiencing personal Soul Healing miracles and sharing their video testimonials so that others can benefit from these powerful and life-changing results.
Master Sha is author of more than 10 books published by Simon & Schuster (Atria Imprint), Dr. Sha's most recent New York Times bestselling book, Divine Healing Hands (September, 2012) topped national bestseller lists within 24 hours of publication and his 2011 book, Tao Song & Tao Dance was also a New York Times bestseller. All of Dr. Sha's Soul Power books, DVDs and CDs, reveal soul secrets, wisdom, knowledge and practical techniques to transform every aspect of life, and are bestsellers throughout the world. Visit Dr. Sha on his website http://www.DrSha.com and receive FREE daily Divine Healing Hands blessings via webcasts, teleconferences and in-person at events held throughout the world. You can also Like Master Sha's page at http://www.facebook.com/DrandMasterSha.