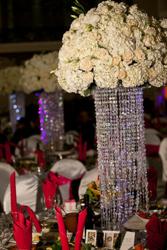 We try our hardest to provide our clients with excellent customer service skills and make their special occasion unforgettable.
Panorama City, CA (PRWEB) June 02, 2013
Platinum Banquet Hall has been a great place to celebrate any kind of special event for many years now. The Los Angeles banquet hall has grown to be known as offering the best food, catering, DJ, party planing and decoration services. With hard work and excellent customer service, Platinum has one important goal - to make any special occasion unforgettable for the guests. All the staff members pledge to serve with the best services in the greater Los Angeles area. The hall has a huge grand room with capacity of serving over 400 guests. On top of that the banquet hall has a big dance floor in the center of the room with DJ stage. The unique part of Platinum Banquet Hall that has attracted many happy clients is the lighting effects that are sound sensitive and change the mode along with music. There are many videos available on the website where visitors can see the amazing lighting effects of the banquet hall and have an idea what to expect during the event without visiting the hall.
Currently Platinum offers great special packages for Sunday morning events. The special offer includes limousine services, cake, food, drinks and many more specials. For up to 200 guests for 10am to 3pm Platinum offers $3500 special package. The special will be available during the whole Summer. The package is great for any wedding occasion, baptism, quinceañera parties, graduation and prom parties. For more information and available dates hosts can get more information by calling 818-672-2626.
When choosing a banquet hall, whether it is for a wedding ceremony, quinceañera or any other special event, professional customer services and elegant atmosphere is what clients are looking for. At Platinum Banquet Hall, customer service is always a top priority. Waiters have a full training and they can be helpful with any related question about the event.
Anything in the banquet hall can be customized to fit the clients' taste. There are many color options available for the table and chair decorations. Floral design and special decoration packages can be easily added to the service. Many event planners and coordinators work with Platinum Banquet Hall and they can show many creative and unique ideas that will make the event look different make the day very special. Platinum Banquet Hall is one of the most well known and fascinating banquet halls in Los Angeles area. Platinum Banquet Hall has been serving the community for many years and providing the best of Mediterranean, Mexican and Italian dishes.
Fresh and delicious food is part of any memorable party. At Platinum all the dishes are made in house by experienced cooks. Any party has two main menu options and clients can choose whichever menu meets their needs. Catering services are also available for any type of small or large events.
Silvia E. is a happy client of Platinum Banquet Hall. She mentioned in her feedback:
"I just had my daughter sweet 15 on August 4,2012 it's a great place to have your party the food was very good too . The security was A+ the servers were on top of everything I plan to have my other daughter sweet 15 there as well and maybe even my wedding in the near future."
Platinum Banquet Hall is a trusted place for many hosts for their events. From the first day Platinum opened their doors to public, they have offered quality service and turned a dream wedding parties into reality for many brides.