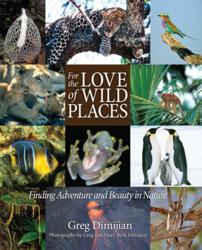 The title says it all. Jane Goodall, PhD, DBE.
Dallas, TX (PRWEB) June 11, 2013
"For the Love of Wild Places: Finding Adventure and Beauty in Nature" (Brown Books Publishing Group) by Greg and Mary Beth Dimijian invites readers on a magic carpet ride of discovery around the world.
Dr. Sylvia Earle, the American oceanographer, aquanaut and author recognized by "Time" magazine as the first "Hero for the Planet" says, "'For the Love of Wild Places' is the next best thing to personally breathing the fragrance of a mossy woodland, catching a glimpse of a jewel-toned frog or being surrounded by a kaleidoscope of small fishes on a tropical reef."
Gifted storytellers and world-class photographers whose photographs have appeared in "National Geographic," "Time" magazine and the "New York Times," the Dimijians aim to inspire readers with a passion for exploring the natural wonders of our planet while also imparting the necessity of wildlife conservation.
"There are no better guides than these two naturalists," says Dr. James B. Murphy, Curator of Herpetology at the Smithsonian National Zoological Park in Washington, DC.
For four decades, Greg and Mary Beth Dimijian have ventured into the back country of Earth by land, sea and air to photograph and savor the adventures shared in this book. From the searing heat inside a volcano in Hawaii to the grandeur of the continental divide in Glacier National Park and the mystery of a coral reef during a night dive, their stories reflect a love of learning about the fascinating inhabitants of our planet and a passion for adventure.
"For the Love of Wild Places" is brimming with details about some of the wildest habitats around the globe. From an intimate view of a cheetah's care of her six cubs in Africa to a carpet of Emperor Penguins in Antarctica to the landing of 25,000 sea turtles on an isolated Costa Rican beach, this personal narrative captures the wonder, beauty and fragility of vanishing wild places.
"For a planet sickened by the increasing separation of people from the natural world that supports their lives, 'For the Love of Wild Places' represents a key step toward the cure. Enjoy its beauty and learn from it," says Paul R. Ehrlich, coauthor of "The Dominant Animal: Human Evolution and the Environment."
The Dimijian's encourage readers to experience wild places whenever and wherever they can. Enjoy the journey and embrace the true magic of nature.
Books are available online and in bookstores.
To learn more, visit http://www.ForTheLoveOfWildPlaces.com.
About the Authors
Greg Dimijian is Clinical Associate Professor of Psychiatry at the University of Texas Southwestern Medical School in Dallas, where he teaches an annual course in behavioral ecology. Mary Beth Dimijian taught elementary school for three decades in Richardson, Texas. They have worked with researchers and field biologists around the world to understand and photograph Earth's natural heritage and have taught lay and professional audiences about wild places and animal behavior. The Dimijians' photographs have appeared in "National Geographic" publications, the "New York Times," "Time" magazine, "Natural History," "Scientific American," "International Wildlife," "Sky & Telescope," "Nature," "Science," and many other publications. "For the Love of Wild Places" is their second book.
About Brown Books Publishing Group
Brown Books Publishing Group is a Texas-based independent publisher. To learn more about the publisher, please visit http://www.BrownBooks.com.