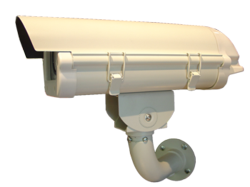 This camera, Direct from the Factory, has a price that will amaze you!
Kemp, Texas (PRWEB) June 05, 2013
Rugged Cams is now making life easier for their customers looking for a low cost, long range infrared camera that also offers night vision. Their highly popular security camera, the IR660 is a combination of several excellent features to offer the best picture with optimal settings for any type of location. For more than two decades, Rugged Cams has been a trusted name for security cameras that are tough, rugged and built with quality components. The company's enviable track record can be attributed to their exemplary customer service and unlimited technical support.
The IR660 is equipped with a 6-60mm Telephoto Lens and can illuminate, and zoom in to an area as far away as 150 feet. This top rated camera with night vision is built around its High-Resolution SONY 1/3" Super HAD II Camera that provides 650 lines of resolution. The users can tailor this camera according to the situation with options like bright light masking, back-light compensation and others. The IR660 also serves the purpose of a License Plate Capture Camera, as experienced by many of its satisfied users.
Unlike ordinary infrared cameras, The IR660 has its sensor in the bottom of the housing in order to counteract the glare. Rugged Cams has recently launched an improved version of The IR660 with WDR menu block and RS485 data control on the cable. The company also offers two year warranty and free tech support for life to all buyers.
The IR660 has already received rave reviews from a huge number of satisfied customers. Official sources reveal that hundreds of this long range infrared camera is sold every week by Rugged Cams. Describing his own experience of using The IR660 Camera with Night Vision from Rugged Cams, Mark Anderson of A & D Storage says, "This camera gets front and back plates on vehicles every time. If the lights on the vehicle are on or off it doesn't matter - clear video of the plates come through right at 30' away from the camera!"
Best of all, the price, Direct from the Factory, is truly amazing!
About Rugged Cams: Rugged Cams is a Manufacturer of digital security cameras, DVR's and complete systems, located near Dallas, Texas. They manufacture an extensive and growing line of security cameras and digital video recorders to accomplish many tasks at all types of remote and unattended sites. The company has been in business since 1993 and owes their success to excellent customer service and security products that outperform and outlast the rest of the security industry.