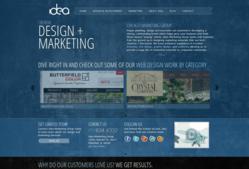 We are excited about the move and know that this location will bring great opportunities
(PRWEB) June 05, 2013
Idea Marketing Group has announced they are moving their location to Plainfield, Illinois in June of 2013. The new Plainfield location is located approximately seven miles away from their former Oswego office.
Idea Marketing Group is a creative team that serves their clients with marketing and custom web design services. When starting out, Idea was located near the heart of Chicago and shortly after in 2011, they moved operations to Oswego, Illinois. Recently, Idea has outgrown their space and is in the process of relocating from Oswego to Plainfield, Illinois.
Idea's expansion allows them to more than triple their work space, providing the opportunity to more efficiently serve their customers. The large space and redesign of the interior encourages greater creativity among employees, and a larger space to work with clients. This creates more effective meetings and the continued timely completion of projects.
The impact that the relocation will have on clients will be a positive one, President of Idea Marketing Group says "we are excited about the relocation, since we began business four years ago in the economic downturn we continue to see growth and stand out in a competitive industry. This relocation is another step in our successful journey."
If all plans remain on schedule, Idea will occupy their new space by the end of June and are ready to continue their expansion and start a new chapter in Plainfield, Illinois. The new location is:
Idea Marketing Group
10261 Mandel St, Unit F
Plainfield, IL 60585
For more information on Idea Marketing Group visit http://www.ideamktg.com.