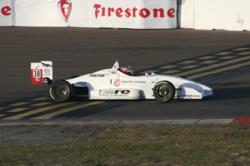 Vancouver, BC (PRWEB) June 02, 2013
Vancouver native, 18 year old Scott Hargrove, driver of #38 Cape Motorsports with Wayne Taylor Racing/Analytic Systems/Race Energy entry, reset the record books at Lucas Oil Raceway in Indianapolis, Indiana at the traditional Night Before the Indy 500 by breaking the qualifying lap record while recording his 5th straight pole position in the 2013 USF2000 Championship. He continued by setting a new race lap record on his way to a 5th overall finish in this most challenging event on the 2013 calendar.
Hargrove put in two stellar laps during single car qualifying to win the pole and reset the USF2000 lap record for 2 laps to 42.833 seconds. During the race on Saturday evening, teammate Neil Alberico got the jump into turn one and Hargrove chased in second place for the majority of the race before deteriorating handling dropped him to 5th at the finish. Hargrove successfully reset the race lap record for a single lap to 21.643 seconds on lap 4.
Hargrove increased his championship point's tally to 141 after five of the fourteen races, now leading second place by 53 points (there is a maximum of 33 points awarded per race)
Prior to the on track competition at Lucas Oil Raceway, Hargrove took part in pacing the start of Firestone Freedom 100 Indy Lights Race in his USF2000 car at the famed Indianapolis Motor Speedway. The race would end with a historic 4 wide finish at the line, the closest 4-car finish in IMS history.
"To be part of such a widely known event was very special for me. Being the pace car for the Indy Lights race at Indianapolis Motor Speedway, breaking two records at Lucas Oil Raceway, claiming my 5th consecutive pole position and capitalizing on good points made the weekend one to remember. Now I turn my sights on Toronto, where I'm sure we will put on a good show for all the Canadians in attendance!"
Next up for Hargrove is a guest drive in the F1600 support events at the Canadian Grand Prix in Montreal, Quebec on June 7 – 9th before the next USF2000 races at The Honda Indy Toronto on the streets of Toronto, Ontario July 12 – 14. This is the first time the USF2000 series will visit Canada and Scott is extremely excited to be able to showcase his skill in front of his Canadian fans!
For more information about Scott, visit his website at http://www.scotthargrove.com keep up to date via Twitter @Scott_Hargrove and his Facebook page @ ScottHargroveMotorsports
Analytic Systems is a world class manufacturer of high performance Power Conversion Equipment for the Military, Marine, Industrial and Alternative Energy markets. Visit http://www.analyticsystems.com for more information.
RaceEnergy is a division of Analytic Systems that specializes in Battery Chargers and other electronics for the motorsports industry. Visit http://www.raceenergy.net for more information.
Metal Action Machining is a world class CNC machine shop specializing in 3D and multi axis precision machining for Industrial, Aerospace and Military applications. For more information please visit http://www.metalaction.ca
Cape Motorsports with Wayne Taylor Racing was formed in 2010 as a partnership between two successful race entities. With leadership from brothers Nicholas and Dominic Cape and along with Wayne Taylor and his organization in Indianapolis, the team won the 2012 Cooper Tires Presents the USF2000 National Championship Powered by Mazda. Visit http://www.capemotorsports.com for more information.
To arrange interviews, photos, video, please contact Shalina Kajani at 604.801.5477 or 604.377.7097 or shalinakajani(at)shaw(dot)ca