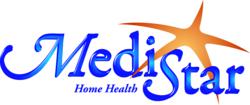 "Medistar Home Health is an important provider of health care services in Louisiana, and our new network relationship gives UnitedHealthcare plan participants greater access to quality home health care services close to where they live and work"
BATON ROUGE, LA (PRWEB) June 03, 2013
Louisiana residents enrolled in UnitedHealthcare's employer-sponsored, MedicareDirect and Evercare/SecureHorizons Medicare Advantage health plans now have access to care provided by Medistar Home Health.
The new network relationship with UnitedHealthcare allows a greater number of residents the benefit of receiving high-quality of home health care from one of the nation's top health care organizations.
"We are delighted to join UnitedHealthcare's care provider network and to welcome their plan participants," said Gina Creel, COO, at Medistar. "UnitedHealthcare's addition of Medistar is a testament to our years of experience, advanced point-of-care EMR, and consistently top-ranked quality patient care."
"Medistar Home Health is an important provider of health care services in Louisiana, and our new network relationship gives UnitedHealthcare plan participants greater access to quality home health care services close to where they live and work," said Glen Golemi, CEO, UnitedHealthcare of Louisiana.
Medistar welcomes UnitedHealthcare plan participants and looks forward to providing nationally recognized, compassionate, award-winning care throughout Louisiana.
UnitedHealthcare serves approximately 620,000 members in Louisiana with a care provider network of nearly 8,000 doctors and 160 hospitals.
About Medistar Home Health
Medistar Home Health is a nationally recognized Medicare-certified home health agency, a member of the National Hospital to Home Quality Improvement Initiative, a Premier and Gold Participant in the Home Health Quality Improvement National Campaign and received the Home Health Quality Initiative's Best Practices Early Adopter and Gold Medal Awards. Medistar Home Health has been serving Louisiana patients in the familiar surroundings of their homes since 1983. "Our mission is to make a positive difference in the lives of our patients, our healthcare partners, and our valued employees as we provide superior quality and passionate care, while adhering to the highest standards of excellence." To find out more, visit http://www.medistarhomehealth.com
About UnitedHealthcare
UnitedHealthcare is dedicated to helping people nationwide live healthier lives by simplifying the health care experience, meeting consumer health and wellness needs, and sustaining trusted relationships with care providers. The company offers the full spectrum of health benefit programs for individuals, employers and Medicare and Medicaid beneficiaries, and contracts directly with 780,000 physicians and other health care professionals and 5,900 hospitals and other care facilities nationwide. UnitedHealthcare serves more than 40 million people in health benefits and is one of the businesses of UnitedHealth Group, a diversified Fortune 50 health and well-being company.