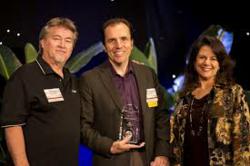 Placentia, CA (PRWEB) June 26, 2013
Chris Conant received the Infinitely Beyond Award from Convene, the premier Christian CEO and Business Owner forum organization, at their 8th annual CEO Summit held recently in Dallas, Texas.
Selected from hundreds of members, Convene's Infinitely Beyond Award recognized two outstanding members for their extraordinary life's work centered on service to God and building exceptional businesses based on Kingdom values. The award is named from a scripture recognizing that God's plans and power are greater for us than we can imagine:
"Now glory be to God, who by his mighty power at work within us is able to do far more than we would ever dare to ask or even dream of—infinitely beyond our highest prayers, desires, thoughts, or hopes." Ephesians 3:20 TLB
Recipients have gone above and beyond in their businesses, communities and ministries. Each recipient is nominated by their peers and then their qualifications are reviewed and validated to confirm their exceptional service.
Chris Conant is the President and "Head Cabbage" for Dallas-based More Cabbage LLC, a national leader in social media PR, branding and web site development. More Cabbage helps their clients implement social media and web-based marketing by developing better relationships online through building personal brands, producing content, using technology tools, and influencing behavior through better communication.
"Chris and his wife Nancy made the commitment to take a moderate salary and give all of their profit to global Kingdom initiatives, including supporting more than 30 missionaries such as those on the streets helping girls get away from the sex trade, to single moms laying their lives and families on the line to see addicts and the hurting impacted by God's love," said Ken Stiles, Dallas Convene Chairman. "When business sagged like it did for so many of us in 2009, rather than cut support, Chris took a loan to sustain the same level of commitment to these Kingdom initiatives. More Cabbage has since paid back the loan in full."
"Most recently," Stiles continued, "Chris and Nancy wrote their testimony into a book called Resurrection Monday, dealing with living with MS and suicide. It is a very personal and moving story about victory in God and learning who we are in Christ. The story has already reached millions in North Africa, Iran and Europe as a message of hope and inspiration of how God is willing to go even to death to save a life. Their business has been funding the entire project, soon to be translated into more languages and ultimately made into a movie."
Founded in 1996, Convene is a national peer advisory organization of Christian CEOs and business owners meeting together to help each other build exceptional businesses, become higher-impact leaders, and honor God through the principle of "iron sharpening iron." Learn more about Convene here: http://www.convenenow.com.