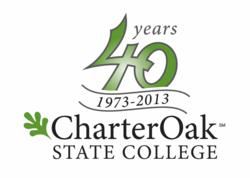 "Your fierce determination to finish what you started, gives us the encouragement we need to keep improving, keep building new programs, to keep working to make you, our newest alums, proud."
New Britain, CT (PRWEB) June 02, 2013
Approximately five hundred and twenty five members of the Class of 2013 received degrees during Charter Oak State College's commencement ceremony held on Sunday, June 2, in Welte Auditorium at Central Connecticut State University in New Britain, CT. Approximately one hundred and ninety were in attendance. A live webcast of the ceremony was hosted on CharterOak.edu.
An honorary degree, Doctor of Humane Letters, was presented to Charter Oak alum Kimberly L. Beauregard. Ms. Beauregard, a LCSW, is President and CEO of InterCommunity, Inc. in East Hartford, a community behavioral health organization. Each year, this honorary degree is awarded by the Connecticut Board of Regents for Higher Education and Charter Oak State College to an individual or individuals who have made exceptional contributions to the College and to local, national and/or international communities and who have influenced advances within their own professional fields.
Charter Oak President, Ed Klonoski addressed the graduates. The student speaker was John Thomas, who served as a Board of Regents for Higher Education Student Advisory Committee representative as well as an alternate Student Advisory Committee representative. He also served on the Student Association Council.
In his remarks, President Klonoski congratulated the graduates for taking on the challenge of completing their degree work while also handling the responsibilities of work and family.
"The past two years have been stormy. Connecticut experienced two hurricanes and two blizzards of historic consequences. All of us know more about generators, storm tides, and snow removal than we ever thought possible. But against that backdrop of extreme climate, this graduating class kept at it. You persevered against not only the usual life events—sick kids, job loss, parental illness—but against the elements as well.
"Well today I would like to thank all of you for not surrendering your dream of a college degree. Not when it snowed 3 feet, not when the wind blew, the rain fell, and the tides came in, and not when the snow broke all the trees in your yard. Your fierce determination to finish what you started, gives us the encouragement we need to keep improving, keep building new programs, to keep working to make you, our newest alums, proud," he said.
Awards presented to Class of '13 graduates
The Doris G. Cassiday Award is given to those graduates of Charter Oak who have achieved excellence in innovative learning and who exemplify the essence of the Charter Oak mission. With this award, the College recognizes individuals who avail themselves fully of a broad range of learning options, earning credits both inside and outside the traditional classroom setting. These options include distance learning, testing, portfolio assessment, contract learning, military service school courses and other non-collegiate sponsored instruction, which has been evaluated for credit, as well as classroom instruction.
2013 Doris G. Cassiday Award recipients included:
Katherine Rachelle Avery, Centennial, CO
John M. Kunda Sr., Plainville, CT
Michael Harris Riordan, Bolton, CT
Eben David Salter, Gales Ferry, CT
Joel S. York, Greenfield, WI
Awards for Outstanding Academic Performance were presented to:
Elizabeth A. Climie, Waterbury, CT
Carrie Cline, Milford, CT
Founded in 1973, Charter Oak State College is Connecticut's only public online college, offering associate and bachelor's degree completion programs in high-demand fields including Health Care Administration, Public Safety Administration, Business Administration, Information Systems and more. Charter Oak students complete degree programs through online courses and alternative approaches to earning credit. Charter Oak is accredited by the New England Association of Schools and Colleges and governed by Connecticut's Board of Regents for Higher Education. The College is celebrating its 40th anniversary this year.