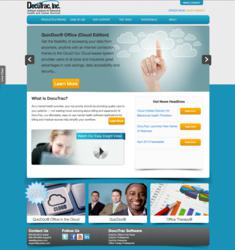 Hagerstown, MD (PRWEB) June 02, 2013
Nobody likes wasting hours of the workday on paperwork. That's the concern DocuTrac, Inc. had when they contacted award-winning web design MD company Power Marketing, LLC about improving their website design. DocuTrac is a medical billing and office records software company for mental health professionals. DocuTrac's software appeals to buyers looking for ease of use because they don't want to be burdened with processes that affect or prohibit their therapy practices.
The web design Hagerstown team designed and built a site that functions as easily and effortlessly as the software DocuTrac sells. The redesigned site is simpler, more streamlined and reflects how easy DocuTrac's software is to use on a daily basis. Power Marketing condensed a significant amount of content and aided with a simple user interface so users can navigate the site easier. All website copy was rewritten to reflect the ease of use of DocuTrac's software, as well as their customer service.
Users can easily contact a DocuTrac representative with questions via the new Live Chat feature. Ease of Use and Easy Support tabs reiterate DocuTrac's commitment to exceptional customer service. Unlike DocuTrac's competition, pricing for each product is clearly visible and customers can purchase software directly from the site. A Comparing Software feature allows users to view a comparison chart to determine which product best suits their needs. A Content Management System also allows DocuTrac to maintain their own website externally, updating the News section, content and more.
The new responsive web design was launched just in time for DocuTrac's 20th anniversary in business. "Launching the new website is a good way to mark this milestone for the company," says DocuTrac President Arnie Schuster, Ph.D. "We hope our new site's format will make it easier to navigate and visiting us on the web will be a more pleasing experience for our customers and other visitors."
To learn more about Power Marketing's web development services and brand strategies, visit their website or follow them on Facebook and Twitter.
About Power Marketing:
Power Marketing, LLC is a full-service marketing firm with more than 20 years of hands-on experience in brand strategy, Internet marketing, SEO Maryland, social media marketing and web design. Power Marketing assists companies in maximizing their resources to improve their brand identity and sales success. For more information, please contact Communications Specialist Krista Scarlett, 301-416-7861, Krista(at)Power-Marketing(dot)com, or visit http://www.power-marketing.com.